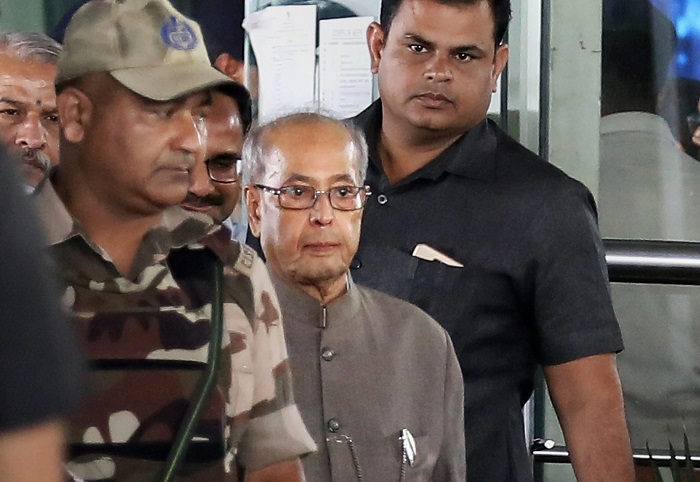 Former President and veteran Congress leader Pranab Mukherjee is all set to deliver valedictory speech at the concluding session of  Rashtriya Swayamsevak Sangh's Tritiya Varsh Sangh Siksha Varg in Nagpur this evening.Although a former president is considered above the party lines, Mukherjee's decision to participate and associate with RSS has made several Congress leaders uncomfortable. From MP Sandeep Dikshit to former Union Minister CK Jaffer Sharief and now his own daughter Sharmistha - many leaders from his party have urged Mukherjee to reconsider his decision to address RSS recruits from across the nation. 
Pranab Mukherjee at RSS headquarters in Nagpur: Click here 
Fighting the rumours that she had joined BJP, Sharmistha said by going to Nagpur Mukherjee would give BJP and RSS an opportunity to plant false stories, and spread rumours, like that she was joining the BJP.
"Hope @CitiznMukherjee now realises from today's incident, how BJP dirty tricks dept operates. Even RSS wouldn't believe that you are going to endorse its views in your speech. But the speech will be forgotten, visuals will remain and those will be circulated with fake statements," Sharmistha said in a series of tweets.
"@CitiznMukherjee by going to Nagpur, you are giving BJP/RSS full handle two plant false stories, spread falls rumours as today and making it somewhat believable. And this is just the beginning!" she added.
Meanwhile several other senior Congress leaders are hoping that Mukherjee would use the opportunity to tell RSS what is wrong with its ideology. 
"Now that he has accepted the invitation, there is no point in debating why he accepted it. The more important thing to say is, Sir you have accepted invitation, please go there and tell them what is wrong with their ideology," former Union Minister P Chidambaram said soon after the news broke.
Also read | Pranab Mukherjee arrives in Nagpur to attend RSS event, daughter says 'speech will be forgotten, visuals will remain'
What is Pranab Mukherjee getting into: 
Pranab Mukherjee has agreed to attend the 25th day of 'Tritiya Varsh Varg', which is a graduation event for volunteers of the organisation from across the nation. Mukherjee will participate as the chief guest and will address the new recruits. The Congress leader will leave the Governor's House at 5:10 pm and will reach the venue Reshambagh ground at 5:30 pm. The function will conclude at 9:30 pm. The ex-president is scheduled to fly back to Delhi on Friday. 
An ode to bipartisan dialogue?
In his last speech as the president, Mukherjee highlighted the importance of pluralism and tolerance.
 "I want to share with you some truths that I have internalised in this period. The soul of India resides in pluralism and tolerance. India is not just a geographical entity. It carries a history of ideas, philosophy, intellect, industrial genius, craft, innovation and experience. Plurality of our society has come about through assimilation of ideas over centuries.
"…we cannot deny the essential prevalence of multiplicity of opinion. Otherwise, a fundamental character of our thought process will wither away," said the lifelong Congressman on the last day of his career.
The BJP thinks Mukherjee's acceptance of the RSS invitation is nothing but his acceptance of multiple ideologies. 
Union Minister and BJP leader Nitin Gadkari said that there should be an exchange of views and political untouchability was outdated. "We should meet each other, talk to each other, respect views. The notion of political untouchability is outdated. Those who practice this say others are communal but they are themselves communal," Gadkari said.
The RSS press release about the event said that the organization was not surprised that the Congress leader accepted their invitation. 
The statement said that even Mahatma Gandhi visited the RSS camp at Wardha and later stated that he was impressed by the "strict discipline, simplicity and lack of discrimination" in the organisation.
Former President Zakir Husain, socialist leader Jayaprakash Narayan and General (later Field Marshal) KM Carriappa were other personalities who attended RSS events.
Also read | 'No comments till event takes place': Congress on RSS invite to Pranab Mukherjee
Mukherjee not first Congressman to be associated with RSS 
Even as Pranab Mukherjee's decision has shocked the nation, he is not the first Congress leader to attend an RSS event. 
In 1962, Prime Minister Jawahar Lal Nehru invited RSS leadership to 1963 Republic Day parade for their aide contributions during the war. 
 In 1965, Lal Bahadur Shastri sought RSS' help in managing traffic in Delhi during the war time crisis. 
In 1977, former PM Indira Gandhi had unveiled Vivekanand Rock Memorial on the invitation of senior RSS functionary Eknath Ranade
​Also read | Aaj ki Baat May 29 episode: There is nothing wrong in Pranab Mukherjee attending RSS event
Watch video: