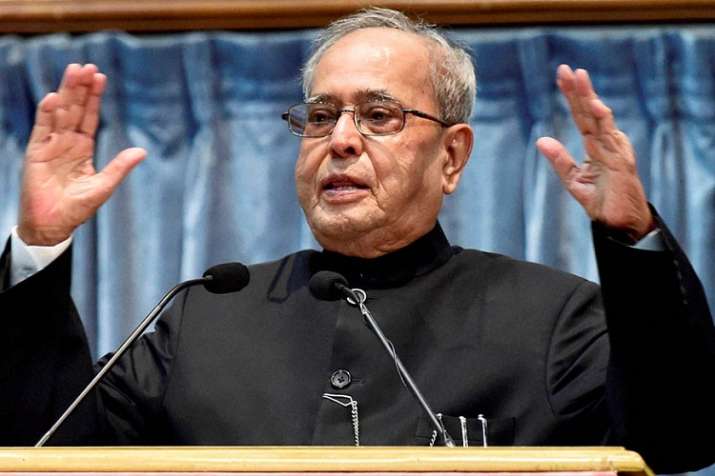 Amid criticism and disapproval from opposition parties, former President Pranab Mukherjee arrived in Nagpur on Wednesday evening to attend a Rashtriya Swayamsevak Sangh (RSS) program. Soon after Mukherjee landed in Nagpur, he was welcomed by a huge entourage of RSS workers, who were seen handing bouquets to the chief guest.
Former President of India Dr.Pranab Mukherjee arrives in Nagpur. He is the chief guest at a Rashtriya Swayamsevak Sangh(RSS) program tomorrow pic.twitter.com/ueAqLyFHj8

— ANI (@ANI) June 6, 2018
Mukherjee will be the chief guest at the valedictory session of the 'Tritiya Varsh Varg' or the Third Year Course organised RSS in June this year.
The RSS invite to Mukherjee sparked off a controversy, as the Congress leaders expressed unhappiness over his acceptance, while the Bharatiya Janata Party (BJP) and the Sangh saw nothing wrong in it.
Senior Congress leader Jairam Ramesh also wrote to Mukherjee requesting him not to attend the RSS event.
Earlier, senior Congress leader P Chidambaram had urged him to take the opportunity to tell the RSS what is wrong with their ideology.
However, breaking his silence on Saturday, the former President said that whatever he has to say, he will say in Nagpur only.
Meanwhile, a day before Mukherjee addresses an RSS event in Nagpur, the former president's daughter and Congress leader Sharmishta Mukherjee today disapproved of his decision, saying he was giving the BJP and the Sangh a handle to plant false stories as his "speech will be forgotten" but "visuals will remain".
Taking to Twitter, she hoped the former president would realise how the BJP's "dirty tricks department" works and said that with his visit, he was giving the BJP and RSS "full handle to plant false stories".
.@CitiznMukherjee By going 2 Nagpur, u r giving BJP/RSS full handle 2 plant false stories, spread falls rumours as 2day & making it somewhat believable. And this is just d beginning! 2/2

— Sharmistha Mukherjee (@Sharmistha_GK) June 6, 2018