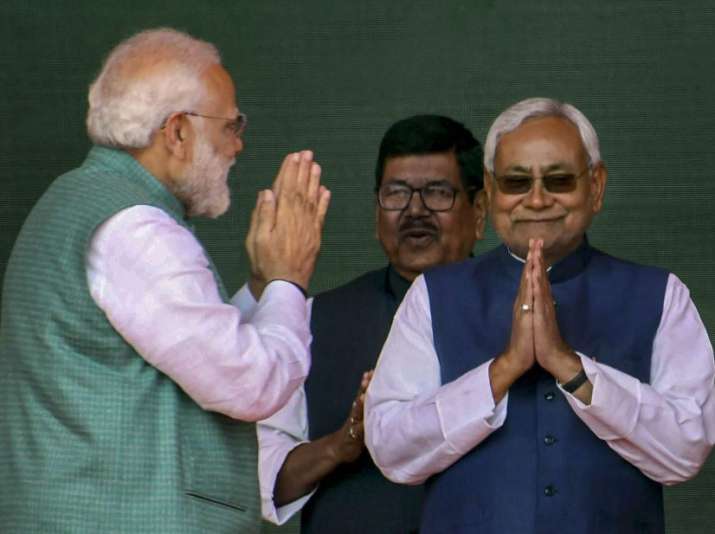 Prime Minister Narendra Modi and Bihar Chief Minister Nitish Kumar grabbed eyeballs on Sunday when they shared the stage at a NDA rally for the first time in a decade. Both had come together last time at a rally in 2009 in Ludhiana in Punjab. 
With the Sankalp Rally in Patna, the prime minister officially kickstarted NDA's election campaign for the upcoming Lok Sabha polls, also the first show of strength in Bihar ruled by BJP in alliance with JD-U. 
TOP 10 POINTS:
1. Prime Minister Narendra Modi attacked Congress and its allies for demoralising security forces by asking for proof of air strikes against terror camps in Pakistan and for "making the enemies smile" by issuing statements. Modi reminded thousands of people gathered to hear him at Gandhi Maidan here that when the entire country is rejoicing over the IAF's successful airstrikes on terror camps in Pakistan's Balakot, "a few of our own people have raised suspicion on such a strikes".
2. Modi cautioned people against opposition's 'Mahagathbandhan' agenda, which was "personal and for their own family." "Had the Mahamilavat government been there, there wouldn't have been any decision or development because they have a habit of developing themselves," Modi said.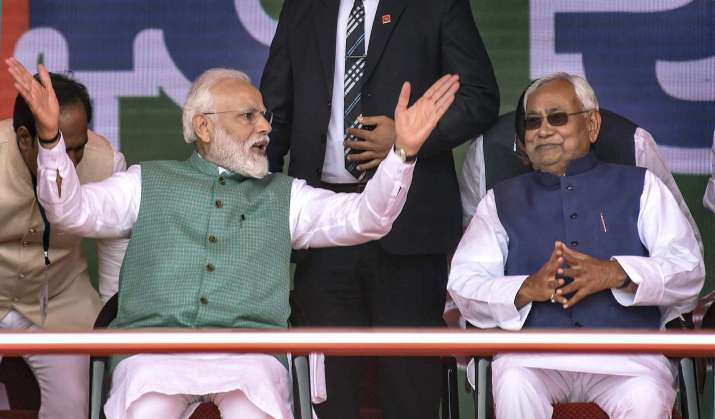 3. The Opposition, he said, has a one-point agenda -- eliminate or remove Modi, who is a 'chowkidar' and 'pradhan sewak' of the country and its people.
"Instead of considering the good work done by the Modi government, the Opposition nowadays is in a competition to abuse the 'chowkidaar', but rest assured, this 'chowkidaar' of yours is as alert as ever," he added.
4. Modi also took a veiled dig at jailed RJD supremo Lalu Prasad, saying, "The people of Bihar have seen a lot in the name of purchase of fodder. Our government has worked for doing away with middlemen who siphon off public money. My heartiest congratulations to Nitish Kumar and (Deputy CM) Sushil Kumar Modi for pulling Bihar out of the dark times."
ALSO READ | 'Made in Amethi' AK-203 rifles will help jawans in fight against terror: PM Modi
5. Addressing his first political rally with friend- turned-foe-turned-friend Nitish Kumar, the Prime Minister showered praise on the Bihar chief minister calling him "hard working and sophisticated". "There seems to be a contest among the opposition parties led by the Congress for hurling abuse at the Chowkidar. But the people of the country have made up their mind. They are going to punish these parties once again and teach them a few more lessons," Modi said.
6. Nitish Kumar, while addressing the rally, vowed to win all the 40 Lok Sabha seats of the state for the NDA to bring back Narendra Modi as the prime minister. Kumar also congratulated the prime minister, the Army and the Indian Air Force on taking "effective action" against terror outfits and those promoting terrorism.
7. There is no question of compromising on the issue of terrorism, Nitish Kumar said, adding that the government would ensure all possible steps to counter it. He also praised the Modi government and the military for forcing Pakistan to release Wing Commander Abhinandan Varthaman.
8. In a veiled attack on opposition RJD, Kumar said there were people who amassed wealth after coming to power. "What we did after coming to power and what they did after coming to power is known to people," Kumar, whose JD (U) broke ties with the RJD over allegations of corruption against the then deputy chief minister Tejashwi Yadav, the younger son of party supremo Lalu Yadav, said.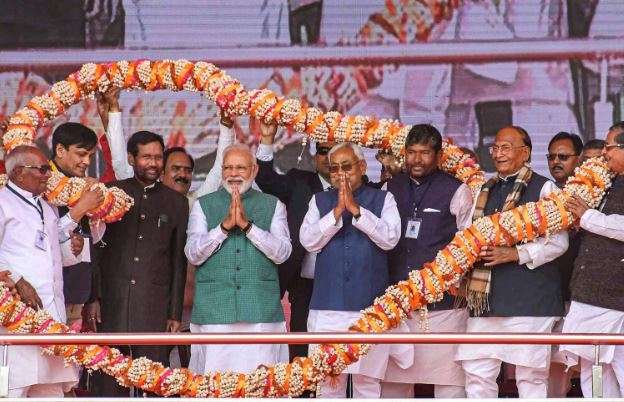 9. The Bihar CM asked people to be wary of those who are more interested in getting 'mewa' (power, position and money) instead of doing 'sewa' (service).
10. Union ministers Ram Vilas Paswan, Ravi Shankar Prasad and Radha Mohan Singh were present at the rally besides a clutch of leaders including Deputy Chief Minister Sushil Kumar Modi, BJP in-charge for Bihar Bhupendra Yadav and state BJP chief Nityanand Rai.
VIDEO: PM Modi's full speech in Patna
ALSO READ | This is New India, it does not remain silent on killings of its jawans, says PM Narendra Modi