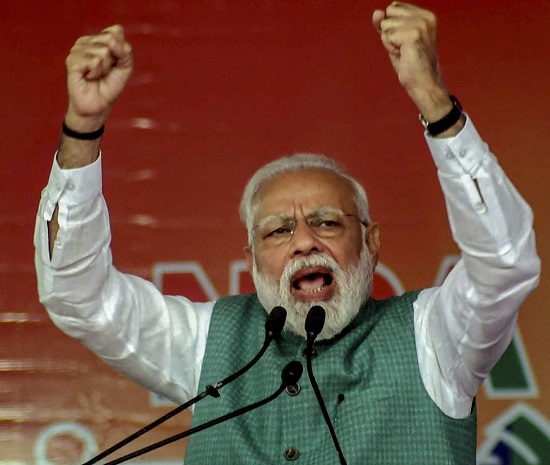 Ahead of Lok Sabha polls, Prime Minister Narendra Modi on Sunday addressed his first rally in Amethi, the stronghold constituency of Congress president Rahul Gandhi, since coming to power in 2014.
He laid foundation stone of a new unit of the Munshiganj Ordnance Factory, where assault rifles will be made in collaboration with Russia.
The rifles AK-203s will be known as 'made in Amethi' and will help our jawans in encounters with naxals and terrorists, he said.
After laying the foundation stone of the unit, he said these modern rifles will be manufactured in Amethi under a Russia-India joint venture.
"I extend my heartfelt thanks to Vladimir Putin for the joint venture which was made possible in such a short time by his support," he added.
Modi also praised the people of Amethi and said that 'Sabka Saath, Sabka Vikas' (together with all, development for all) motto was possible here only.
"Those who voted for us and those who did not all are ours," Modi said. 
He accused previous governments of neglecting the armed forces and their needs. 
He also said the UPA government sat on the Rafale deal for years. 
He even blamed the opposition for reaching to their promises of employment to the people of Amethi.
He further assured that after the opening of the Ordnance Factory, residents of Amethi will get employment.
PM Modi slammed the opposition and said,"Some people have the habit of forgetting the public after getting votes. They want to keep the poor in poverty so they can say 'gareebi hatao' generation after generation. We are giving strength to the poor to bring them out of poverty."
Modi previously visited Amethi on May 5, 2014 and the BJP, which had fielded party leader Smriti Irani against Gandhi in 2014 general election, had managed three lakh votes.
Irani has been nurturing the constituency since and is expected to contest again in the coming poll, expected to be held in April-May.
Watch Video: