Maharashtra government formation: President's rule was imposed in Maharashtra on Tuesday evening after Governor Bhagat Singh Koshyari in a report to the Centre stated that the formation of a stable government was impossible in the current situation despite all his efforts, drawing flak from non-BJP parties. The development came as the political impasse lingered on for the 19th day after the Maharashtra assembly election results were declared.
Meanwhile, Senior Congress leader Digvijay Singh on Tuesday expressed apprehension that the BJP may indulge in horse-trading to form government in Maharashtra after imposing President Rule in the state. He expressed the apprehension, alleging that the decision to impose President Rule in the state has been taken under duress from Prime Minister Narendra Modi and Home Minister Amit Shah.
Here are the Highlights:
07:30 pm: NCP-Congress meeting scheduled for today has been cancelled. The meeting was called to discuss the Common Minimum Programme of the two parties. 
05:30 pm: Ex-CM Devendra Fadnavis changes Twitter bio to `Maharashtra's Sevak'
04:00 pm: Talks on in right direction: Uddhav after meeting Cong leaders
Shiv Sena president Uddhav Thackeray met Maharashtra Congress leaders here on Wednesday and said talks over government formation in the state were progressing in the "right direction" and a decision will be taken at an appropriate time.
Maharashtra Congress chief Balasaheb Thorat, however, dubbed the meet with Thackeray as a "courtesy call", and said the fact that they were meeting was itself a "positive" step.
Thackeray held talks with Thorat, former state chief minister Ashok Chavan and senior Congress leader Manikrao Thakare at a suburban hotel. PTI
02:22 pm: Talks in right direction, says Uddhav after meeting Maharashtra Congress leaders
02:11 pm: Uddhav Thackeray's meeting with Congress leaders concludes. The decisions taken in the meeting will be announced soon, says the Shiv Sena chief
01:20 pm: Uddhav Thackeray holds meet with Congress leaders
12:51 pm: Chief Minister of Maharashtra would be from Shiv Sena, says Sanjay Raut
12:48 pm: Shiv Sena leader Sanjay Raut discharged from Lilavati hospital
12:33 pm: Congress has set up a committee of Maharashtra leaders for talks on Common Minimum Programme with Nationalist Congress Party (NCP). The committee includes Ashok Chavan, Prithviraj Chavan, Manikrao Thakre, Balasaheb Thorat and Vijay Wadettiwar.
12:29 pm: Shiv Sena says the party is ready to contest elections again 
12:10 pm: Today in the meeting all our MLAs said that the government should be formed as early as possible. Even I think before the new year begins, Maharashtra should get a govt, says Ajit Pawar
12:08 pm: Today our leader Jayant Patil will call Balasaheb Thorat (President of Maharashtra Pradesh Congress Committee) for further discussions between the parties and discuss the dates from when we can have a joint discussion on how to go ahead, says Ajit Pawar
12:07 pm: As far as discussions on Shiv Sena goes, we'll do that only after discussing with alliance partners as we had a common manifesto. Shiv Sena's manifesto was different, so we'll have an understanding with Congress first and then go ahead with discussions on Shiv Sena, says Ajit Pawar
12:06 pm: BJP calls three-day meet of its MLAs tomorrow
11:57 am: NCP chief Sharad Pawar to arrive in Delhi on November 17
11:24 am: Prominent Congress MLAs meet Shiv Sena chief Uddhav Thackeray in Mumbai 
11:19 am: BMC removes posters of 'Aditya Thackeray as CM'
11:05 am: NCP chairs meeting on Maharashtra government formation. Sharad Pawar, Ajit Pawar, Supriya Sule, Chhagan Bhujbal, Rohit Pawar among others present at the meet 
10:43 am: Shiv Sena's lawyer Sunil Fernandes: We aren't filing a fresh petition in Supreme Court on behalf of Shiv Sena today. The decision on when to file it hasn't been taken yet. 
10:36 am: Sharad Pawar, Ajit Pawar and other Nationalist Congress Party (NCP) leaders arrive at YB Chavan centre in Mumbai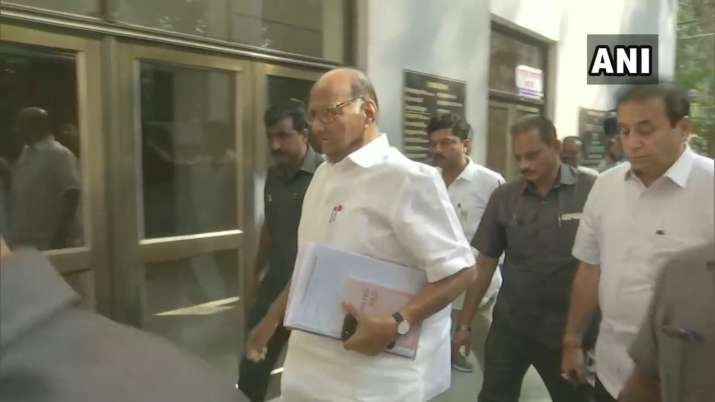 10:34 am: If there is a situation of defection, three parties A, B and C will decide to back one common candidate then no one can defeat us​, says Ajit Pawar
10:32 am: NCP had given a letter to the Governor seeking an extension of three days as Congress leaders were not here and the situation was different in the morning. We wanted more time for the entire procedure (formation of govt)​, says Ajit Pawar
10:21 am: Shiv Sena not to mention its petition in Supreme Court challenging Maharashtra governor's decision of not granting it time for govt formation: Lawyer​
10:05 am: 'Agnipath', tweets Shiv Sena leader Sanjay Raut as Maharashtra comes under President's rule 
अग्नीपथ
अग्नीपथ
अग्नीपथ...

— Sanjay Raut (@rautsanjay61) November 13, 2019
​
10:04 am: Shiv Sena chief Uddhav Thackeray likely to hold meeting with state Congress leaders at 12:00 pm today​
10:00 am: Supreme Court to hear Shiv Sena' plea on challenging Governor's decision​ on the imposition of President's rule in Maharashtra, at 10:30 am 
09:51 am: What President's Rule in Maharashtra means | Read Here
09:48 am: Former Maharashtra chief minister Devendra Fadnavis ​changes his Twitter bio to 'Maharashtra's Sevak​'
09:42 am: A meeting was held between Shiv Sena chief Uddhav Thackeray and senior Congress leader Ahmed Patel, last night in Mumbai​, say sources
09:17 am: Shiv Sena in its mouthpiece blames BJP for Maharashtra deadlock, accuses the party of not honouring the 50-50 formula, which was a power-sharing deal between the two parties before the assembly election in the state.
09:10 am: Lok Janshakti Party (LJP) President Chirag Paswan on Tuesday termed imposition of President's Rule in Maharashtra as 'unfortunate' and took a veiled dig at BJP-Shiv Sena for not being able to form a government despite getting a mandate. "It is unfortunate that President's Rule was imposed in Maharashtra. The people had given the mandate for the formation of an NDA government. It is sad not to allow the formation of the government for one's ambitions," he said in a tweet.​
09:06 am: Shiv Sena legislative party leader Eknath Shinde met party leader Sanjay Raut at Lilawati hospital late night on Tuesday. Sanjay was admitted to the hospital on November 11 following a complaint of chest pain.​
09:03 am: NCP calls a meeting of party leaders today
08:56 am: Maharashtra Congress MLAs will return to Mumbai today. The 44 MLAs were kept at a resort in Jaipur to avoid poaching attempts by BJP.  ​
Also Read | More discussions needed: Congress, NCP as Maharashtra comes under President's Rule