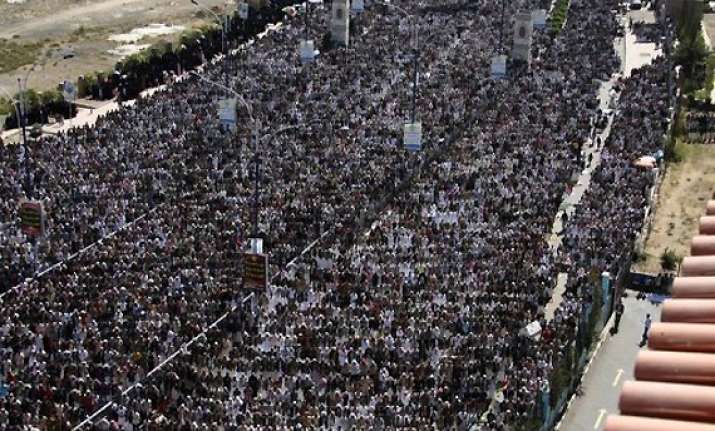 Sanaa, Dec 10: Yemen's national unity government, led by the opposition, was sworn in today in the presence of Vice President Abdrabuh Mansur Hadi, an official statement said.

The statement, carried by the official Saba news agency, said the swearing-in ceremony took place at the Republican Palace in the capital Sanaa.

The new 34-member cabinet will lead Yemen for a three-month transition period, after which President Ali Abdullah Saleh is expected to formally step down after 33 years in power.

The unity government will carry out its duties until early elections are held in February, after which Hadi will take over the presidency for an interim two-year period as stipulated by the Gulf-sponsored deal to resolve Yemen's political crisis.

Half of the new cabinet posts were entrusted to members of the opposition Common Forum, while Saleh loyalists were appointed to the other half, a condition stipulated in the power transfer deal signed by Saleh on November 23. The Gulf plan gave Hadi temporary authority to rule Yemen and form a unity government until February elections in which he will be the only candidate.

Once Hadi is elected, Saleh will then lose his current title of honorary president and officially be removed from power.

The Gulf plan also gave Saleh and his close relatives immunity from prosecution for crimes committed in the uprising against his rule that has left hundreds of people dead and thousands more wounded since it began in January.

However, protesters who have thronged the streets of the capital and other Yemeni cities have rejected the immunity clause and continue to demand that the long-time dictator go on trial.