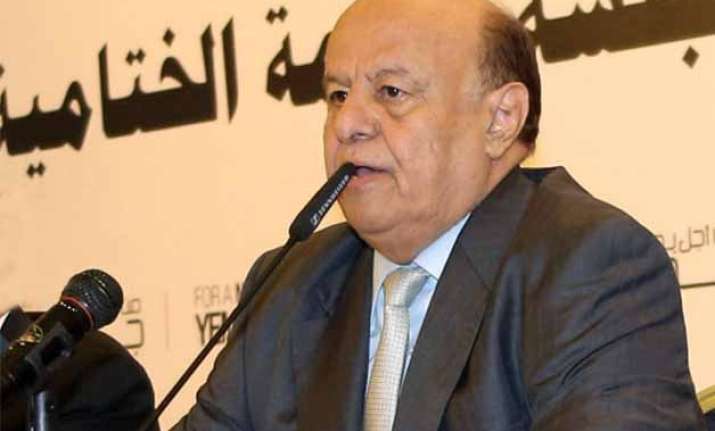 Sanaa: Yemen's president today resigned under pressure from Shiite rebels who seized the capital in September and have confined the embattled leader to his home for the past two days.
Presidential officials said Abed Rabbo Mansour Hadi, a close US ally in the fight against Yemen's powerful al-Qaeda affiliate, submitted his resignation to parliament after being pressured to make further concessions to the rebels, known as Houthis, who are widely believed to be backed by Iran, charges they deny.
Hadi had earlier pledged political concessions in return for the rebels withdrawing from his house and the nearby presidential palace following days of clashes, but Houthi fighters remained deployed around both buildings throughout today.
Military officials close to the president said Hadi resigned after the Houthis pressured him to give a televised speech to calm the streets.
They said the Houthis also demanded appointments in his own office, the Defense Ministry and provincial capitals, demands Hadi rejected.
The officials spoke on condition of anonymity because they were not authorized to speak to the media.  Yemeni law says the parliament speaker—Yahia al-Rai, a close ally of ousted President Ali Abdullah Saleh—would assume the presidency, but the Houthis effectively control the capital, several other cities and state institutions.  The Yemeni government submitted its resignation earlier today.
Prime Minister Khaled Bahah's resignation came as UN envoy Jamal Benomar met with representatives from the Houthis and other political factions to try to implement a deal reached Wednesday to end the crisis.
Under the agreement—struck while the rebels confined Hadi in his private home—the group's militias were to withdraw from the presidential palace and key areas of the capital they have overrun in recent days in return for political concessions.
Bahah's technocratic government was formed in November as part of an earlier United Nations-brokered peace deal after the Houthis overran the capital in September.  Bahah, a political independent, posted his resignation on his official Facebook page, saying he had held office in "very complicated circumstances."