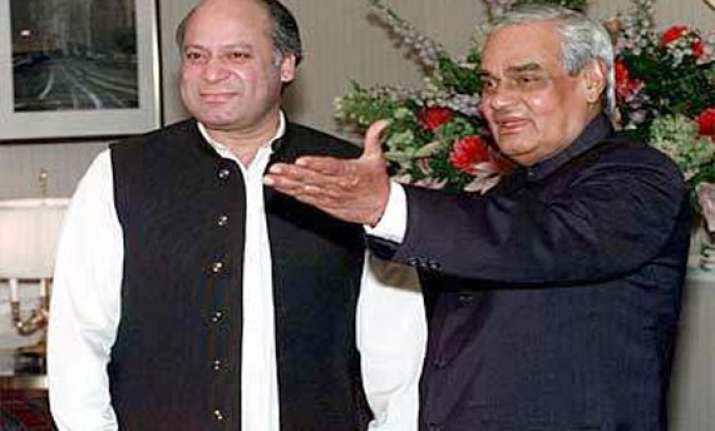 Patna, Dec 13: The initiatives of Atal Bihari Vajpayee and Nawaz Sharif had almost clinched lasting peace between India and Pakistan, but for the Kargil war, Bihar Chief Minister Nitish Kumar said on Wednesday.
"The task is tough due to unwanted forces and events like Kargil which come in between such efforts...More such initiatives are required to further promote a relationship of peace and brotherhood between India and Pakistan," Kumar, who made a successful week-long tour of Pakistan last month, said sharing his experience at a function here.
"Former Pakistan Prime Minister Nawaz Sharif whom I met was full of pains that efforts made by him and Vajpayee which had almost succeeded in establishing lasting peace between the two countries was bedevilled by the Kargil war," he said.
Kumar, who was Union minister in the NDA government of Vajpayee, said he found a yearning for peace and brotherhood among members of civil society of that country.
The Bihar CM, who had led a delegation of politicians and officials to Pakistan from November 9-16 at the invitation of Chief Ministers of Punjab and Sind, stressed on making the journey between the two nations hassle-free.
Kumar appreciated the recent efforts of visa liberalisation and promotion of trade between two neighbours and emphasised on more frequent visits by politicians, professionals and mediapersons for people-to-people contact.
Kumar said the Bihar model of governance was deeply appreciated by political representatives of all the parties including PPP, PTI (Pakistan Tehreek-e-Insaf) of cricketer Imran Khan), MQM and PML and members of civil society in Pakistan.
Kumar, who was given dinner by Pakistan President Asif Ali Zardari on Diwali night, said he hoped his visit would give a further push to the peace process between the two countries.
The chief minister, who visited Karachi, Islamabad, Sind and Punjab said he was touched by the warm reception accorded by the government and people everywhere. "I never felt that I am in a different country."
He said he was happy to hear praise for his state from cross-sections of people who wanted to know more about good governance in Bihar.
Successful run of the pulse polio programme and improvement in law and order and provision for confiscation of property of corrupt officials found particular praise from politicians and members of civil society there, he said.
Kumar said cricketer-turned chairman of Pakistan Tehreek-e-Insaf party, Imran Khan showed interest in knowing about governance in Bihar and said many finer points would be included in the party's manifesto in elections in Pakistan next year.
Expressing pleasure that people with roots in India and more particularly in Bihar had significantly contributed in development of Pakistan, he said, "I was told that Karachi had almost 22 lakh people who had come from Bihar during partition. Besides, among top five doctors three had roots in Bihar."
He said he found overwhelming presence of Lord Buddha particularly in Takshila which was a seat of learning in ancient times like the one that existed in Nalanda.
The CM said he was impressed by upkeep of museum at Takshila and Mohenjodaro of the Indus Valley Civilisation and would like to borrow the expertise for museums in Bihar.
He said CMs of Punjab and Sind and Imran Khan promised to visit Bihar to have a close look at progress taking place in the state.
Indian items were very popular among Pakistanis who wanted more easy accessibility to things manufactured across the border, he added.