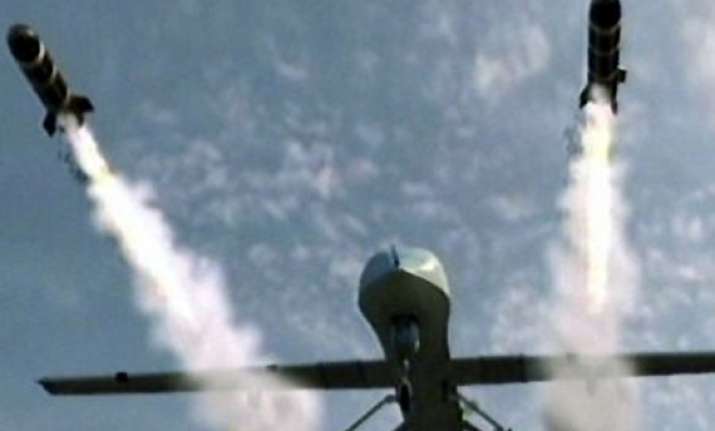 Islamabad, Jul 13: A deal between the US and Pakistan on the American drone campaign against militants in the tribal belt bordering Afghanistan appears unlikely despite efforts by Pakistani negotiators to work out a compromise, according to a media report today.
"Cessation of drones is still a high priority for us in the dialogue with the US but I'm afraid we are nowhere near a deal on the issue," a senior unnamed Pakistani official was quoted as saying by the Dawn newspaper.  
"But we'll keep talking to them about it," he said.  A statement issued after a meeting of the Defence Committee of the Cabinet on July 3 clearly indicated that Pakistan was trying to cut a deal with the US on drone strikes.
It noted that Pakistan "will continue to engage the US on counter-terrorism cooperation and counter- terrorism tools that are in line with international law and practice".  
The latest Pakistani assessment that a deal is unlikely follows recent bilateral interactions, including a meeting between Foreign Minister Hina Rabbani Khar and US Secretary of State Hillary Clinton.
The pessimistic estimation is in sharp contrast with optimism in the Pakistani camp days before the July 3 deal on reopening NATO supply routes to Afghanistan after a seven-month blockade, the report said.  
During negotiations, Pakistan had suggested various options, including using F-16s to target militants in the tribal areas, to stop the US drone attacks, the daily said.  
The senior official said the army's General Headquarters and Inter-Services Intelligence offered alternatives like a combination of defence and intelligence operations to root out terrorists from hideouts.