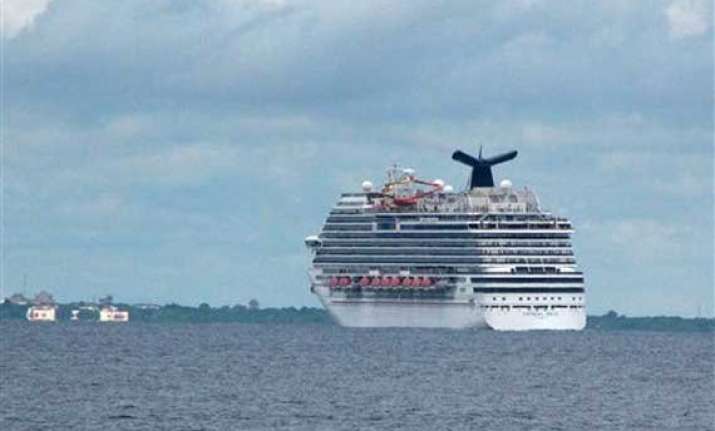 Galveston, Texas: The Coast Guard has retrieved a blood sample taken from a Dallas health care worker who is aboard a cruise ship and being monitored for signs of Ebola, officials said early Sunday.
Petty Officer Andy Kendrick told The Associated Press that a Coast Guard crew flew in a helicopter Saturday to meet the Carnival Magic and lowered a basket of supplies.
The woman provided a blood sample, which was taken to a state lab in Texas for processing.
Kendrick said the decision to take the sample was made in coordination with the federal, state and local health authorities.
Obama administration officials said the passenger handled a lab specimen from a Liberian man who died from Ebola at Texas Health Presbyterian Hospital earlier this month.
Officials said the woman poses no risk because she has shown no signs of illness for 19 days and has voluntarily self-quarantined on the cruise ship.
U.S. officials had been seeking ways to return the woman and her husband to the U.S. before the ship completes its cruise on Sunday.
State Department spokeswoman Jen Psaki said that when the woman left the U.S. on the cruise ship from Texas on Oct. 12, health officials were requiring only self-monitoring.
Carnival Cruise Lines said in a statement that the woman, a lab supervisor, remained in isolation "and is not deemed to be a risk to any guests or crew."
The ship was refused clearance to dock in Cozumel, Mexico on Friday, a day after Belize refused to let the passenger leave the vessel.
There have been no restrictions placed on other passengers aboard the ship, officials said.
The cruise line said Friday that after not receiving clearance, the ship left Cozumel waters shortly after noon Friday with the goal of returning to its home port of Galveston on Sunday morning as originally scheduled.