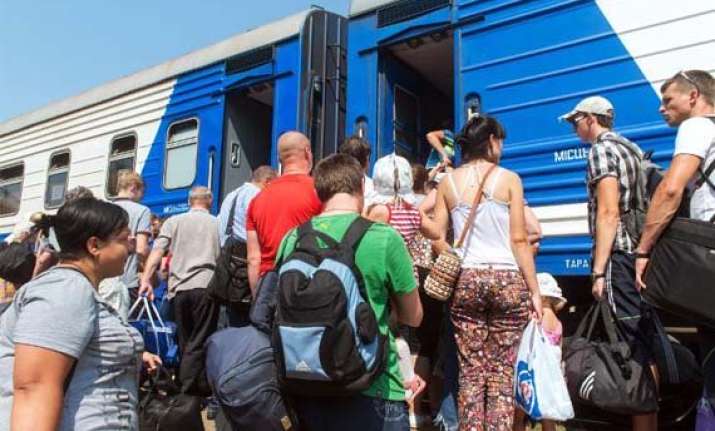 United Nations: The United Nations Development Programme (UNDP) Wednesday announced that it is launching an initiative aimed at ferrying aid to Ukraine's internally displaced persons (IDPs), as well as other vulnerable citizens trapped by the ongoing hostilities.
The UN agency started the humanitarian aid campaign amid continuing fighting and a deteriorating humanitarian situation in Ukraine.
The latest figures from the UN human rights office, OHCHR, and the World Health Organisation (WHO) paint a stark picture of the reality on the ground for millions of people living in the regions directly affected by the conflict, such as Donetsk, Luhansk, Zaporizhzhia and Dnipropetrovsk, where hundreds of thousands of IDPs remain trapped, Xinhua reported.
From mid-April to Dec 12, at least 4,707 people were killed and 10,322 wounded by fighting. Since the tenuous ceasefire began, at least 1,357 fatalities were recorded. Moreover, the UN has recently reported that since March 2014, more than one million people have been displaced from the conflict-affected areas, including nearly 530,000 people within Ukraine, of whom at least 130,000 are children.
Through its latest efforts, which will begin in January, UNDP will target the elderly, orphans, pregnant women, families with children and people with disabilities with some 30,000 more food packages to supplement the food packages of more than 25,000 already distributed to IDPs across the country.
In addition to the food packages, the UN agency also announced that it would distribute sets of warm clothing for adults and children as well as sets of bed linen and blankets in an effort to help mitigate the harsh Ukrainian winter.
"Supporting internally displaced persons and early recovery of critical social infrastructure in eastern Ukraine is a priority for the United Nations Development Programme," Inita Paulovica, deputy resident representative of the UNDP in Ukraine, said in a press release. "Our main task is to ensure that no one is left behind."
In late February 2014, the situation in Ukraine transcended what was initially seen as an internal Ukrainian political crisis into violent clashes in parts of the country, later reaching full-scale conflict in the east.
A ceasefire and peace plan for eastern Ukraine was signed in the Belarussian capital of Minsk n Sep 5, but remains fragile. The situation has since continuously deteriorated, with serious consequences for the country's unity, territorial integrity and stability.