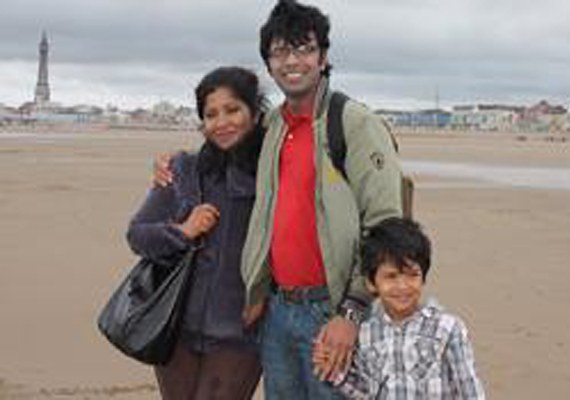 Dhaka, Feb 11: Two prominent television journalists in Bangladesh were brutally stabbed to death on Saturday at their home in west Rajabazar in Dhaka, police said.

The motive for the slaying of the husband and wife who worked for private television was unknown, police said.

They were killed early Saturday at their apartment while their six-year-old son was in another room, police said. The boy was unharmed.

Police identified the slain couple as Meherun Runi and Sagar Sarwar alias Ghulam Mustafa Sarwar.

Runi, 33, worked as a reporter for Bangladesh's largest private television station ATN Bangla. Sarwar, 35, was a news editor for Maasranga TV.

"The couple was stabbed to death sometime after Friday midnight,' deputy police chief Imam Hossain told AFP, adding the husband's hands and legs had been tied.

"We are still clueless about who committed the crime. We have launched a probe," Hossain said. "Their bodies bore multiple stab wounds. It was a brutal killing."

The murders came to light when the couple's son called his grandmother and said that his parents were lying on the floor.

A police officer told bdnews24.com that  a security guard  has been detained for questioning.

"We have detained the building's security guard Polash Rudro Paul for questioning," said Zakir Hossain Mollah, Sher-e-Bangla Nagar Police Station officer-in-charge. "The matter is still unclear. We are investigating."

Runi's brother Nowsher Roman told bdnews24.com: "My five-year old nephew Megh found the bodies when he went to their bedroom after waking up around 7am. He then called our mother and told her."

Sarowar's hands and legs were found tied, and both of them had apparently been hit repeatedly with sharp weapons.

The couple used to live on a fourth-floor flat of a multistoried apartment complex on 58/A/2 holding of the area. The grill of a kitchen window was found cut, Roman added.

Tejgaon police deputy commissioner Imam Hossain told journalists that the opening of the grill was such that only a child could enter.

"Security guard Paul has told us that Sagor returned home around 2am. He did not see anyone unknown entering the building after that. Our Detective Branch is already on the field to probe the killing," he added.

Sarowar returned to Bangladesh in 2011 after a few years in Bonn, working for Deutsche Welle as a broadcaster and a reporter. He had previously been with Ittefaq, Jugantor and Sangbad among other news outlets.

No valuables were missing from the house.

Government and opposition leaders condemned the killing of the two journalists.