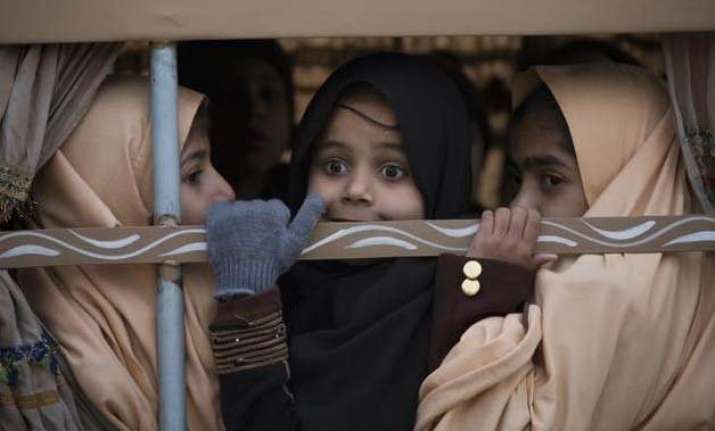 Peshawar: Traumatised students who survived Pakistan's worst terror attack that claimed 150 lives returned to their army-run school today, clinging on to anxious parents with horrors of the deadly carnage still fresh in their minds.
Army Public School (APS) here reopened along with thousands of educational institutions across the country after an unusually long winter break, extended for 12 days due to threat of militants.
The schools which were able to fulfil the criteria set by the government were issued no-objection certificates (NOCs) whereas some institutions which failed to make arrangements such as installation of CCTV cameras and higher boundary walls across the campus boundaries were not issued NOCs.
Army chief Gen Raheel Sharif along with his wife visited the school here and met children at the gate of the school which was attacked by the Taliban militants on December 16.
The militants killed 150 people, including 134 students, during a 7-hour siege, leading to closure of educational institutions across Pakistan. A tweet by army spokesperson, Maj Gen Asim Bajwa, said Gen Raheel joined the students in the morning assembly.
"Standing proudly to sing national anthem," Bajwa said. About 20 soldiers were seen at the main entry point of the APS in the morning, with an airport-style security gate installed at the front.
Elevated boundary walls with steel wire fencing were also put in place around Peshawar and in schools throughout the country.
The APS management said that psychological counseling sessions would be given to staff and students till January 17, whereas regular academic session would begin from January 19.
The winter break in schools across Pakistan was extended for 12 days in the aftermath of the Taliban attack on APS.
Strict security arrangements were seen in place for the re-opening of schools.
Pakistan has asked all schools to increase security and install CCTV cameras as the educational institutions are still under threat.
Senior Superintended of Police Mian Mohammad Saeed said that officials had inspected 1,440 schools in Peshawar. Out of these, only 118 schools were given NOCs, he said.
Security arrangements at 1,380 schools are not satisfactory, Saeed said, adding that such schools had been issued a security advisory.
Some key education institutions also remained shut today.
Among them was also the prestigious Atchison School and College in Lahore which was closed soon after it re-opened.
Governor Punjab Muhammad Sarwar expressed displeasure at the lack of security of key the important institution during his visit to the college in Lahore.