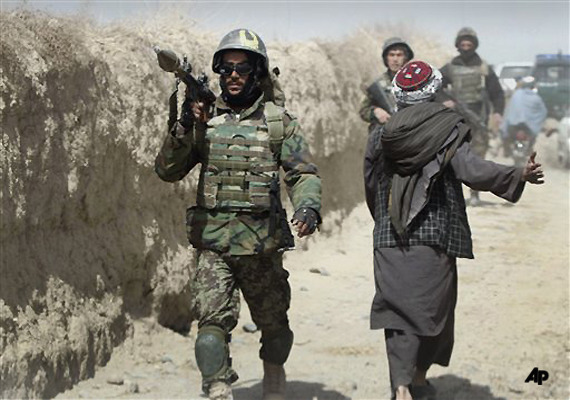 Kabul, Mar 15: The Taliban broke off confidence-building talks with the Americans today and the Afghan president ordered US troops out of villages, demanding a transition of security from NATO control in 2013.  

The announcements from the Islamist militia fighting American troops for 10 years and Hamid Karzai, Washington's key ally in Kabul, came just days after an unprecedented shooting spree by an American soldier killed 16 civilians.

The fallout overshadowed a two-day visit to Afghanistan by US Secretary of Defense Leon Panetta that had been aimed at soothing anger over Sunday's massacre and last month's burning of Korans at a US base in the war-torn country.

The Taliban made no mention of the killings as it announced the suspension of contacts with US officials in Qatar over a prisoner swap—talks that had built up hopes of a political solution to the war in Afghanistan before US troops leave in 2014.

"It was due to their alternating and ever-changing position that the Islamic Emirate was compelled to suspend all dialogue with the Americans," the Taliban said on their website.

In Kabul, Panetta and Karzai gave radically different versions of talks between the two men, after the Americans insisted that recent events would not see US-led NATO combat troops withdraw earlier than scheduled in 2014.

"We're ready to take over all security responsibilities now," Karzai's spokesman Aimal Faizi quoted him as telling Panetta. "We'd prefer that the process be completed in 2013, not 2014," he told AFP.

Karzai then told Panetta that US-led international forces should "be withdrawn from villages and relocated in their bases", his office said.

It was not immediately clear how many American bases may be affected by Karzai's demand, as the United States previously disbanded a number of outposts in a bid to concentrate on securing major towns from Taliban influence.

Nor was there any immediate response from NATO or Panetta, who told reporters after his Karzai talks that he was "confident" both sides could work out a treaty allowing a US military presence in the country beyond 2014.

The defence chief said he was optimistic that both sides would reach an agreement on controversial night raids— a major issue blocking the treaty—ahead of a NATO summit in Chicago in May.

Karzai objects to the raids on the grounds that they violate the sanctity of Afghan families in their own homes and that they are responsible for many civilian deaths—a claim the US disputes.

The treaty being negotiated is supposed to cover Afghan-US relations beyond 2014, with the United States reportedly keen to maintain a foothold in a country to help prevent it from once again becoming a haven for Al-Qaeda.

Analysts fear Sunday's shootings could complicate talks on a possible long-term US troop presence, as the government has so far refused to grant them legal immunity— the same issue that scuppered a US strategic pact with Iraq.

Panetta said he promised Karzai that the gunman would be brought to justice and that the Pentagon would look at what circumstances may have caused the incident—including the possible effect of combat stress on troops.

But his visit was also overshadowed by an unprecedented security breach during his arrival in Afghanistan on Wednesday when an Afghan interpreter tried to ram a truck into US Marines waiting to greet the Pentagon chief.

The incident, which American officials took 10 hours to confirm, took place as Panetta flew into the high security Camp Bastion base.