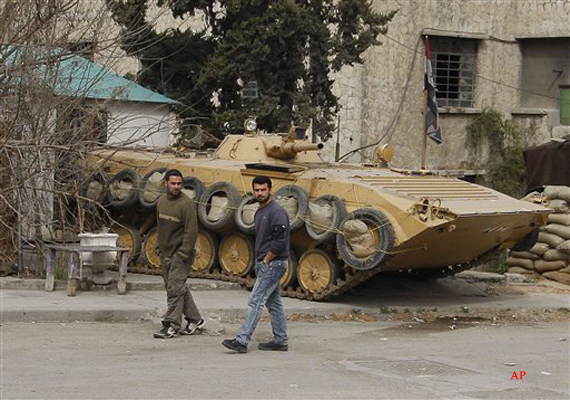 Beirut, Feb 21 : Syrian tanks and troops massed on Monday  outside the resistance stronghold of Homs for a possible ground assault that one activist warned could unleash a new round of fierce and bloody urban combat even as the Red Cross tried to broker a cease-fire to allow emergency aid in. 

A flood of military reinforcements has been a prelude to previous offensives by President Bashar Assad's regime, which has tried to use its overwhelming firepower to crush an opposition that has been bolstered by defecting soldiers and hardened by 11 months of street battles. 

"The human loss is going to be huge if they retake Baba Amr," said Rami Abdul-Rahman, who heads the Britain-based activist group Syrian Observatory for Human Rights.  The central city of Homs and in particular the opposition district known as Baba Amr, has become a critical ground for both sides.

The opposition has lionized it as "Syria's Misrata" after the Libyan city where rebels fought off a brutal government siege.

Assad's regime wants desperately to erase the embarrassing defiance in Syria's third-largest city after weeks of shelling, including a barrage of mortars that killed up to 200 people earlier this month. At least nine people were killed in shelling today, activists said.

Another massive death toll would only bring further international isolation on Assad from Western and Arab leaders.

"The massacre in Syria goes on," said US Senator John McCain during a visit to Cairo, where he urged Washington and its allies to find way to help arm and equip Syrian rebels.