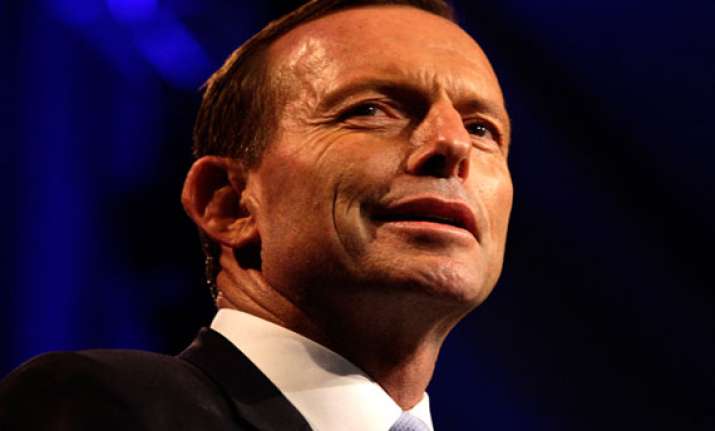 Perth/Beijing: Signals possibly from the black box of the ill-fated Malaysian jet were "rapidly fading" and the ongoing massive search for the plane was likely to continue "for a long time", Australian Prime Minister Tony Abbott said today.
"Given that the signal from the black box is rapidly fading, what we are now doing is trying to get as many detections as we can so that we can narrow the search area down to as small an area as possible," Abbott said.  "Yes we have very considerably narrowed down the search area but trying to locate anything 4.5 kilometres beneath the surface of the ocean about a thousand kilometres from land is a massive, massive task and it is likely to continue for a long time to come," he said in Beijing on the last day of his China visit.
Abbott said a submersible drone would be sent to conduct a sonar search of the seabed once search teams were confident with the area identified - but he refused to say when that might be.
"We do have a high degree of confidence the transmissions we have been picking up are from flight MH370," Abbott said, adding that "no one should under-estimate the difficulties of the task ahead of us."
Abbott appeared to be taking a cautious approach after voicing confidence yesterday that signals from the black box had been detected which triggered speculation that a breakthrough was imminent.
Angus Houston, the Head of the agency coordinating the search, had sounded a note of caution yesterday itself, saying there had been "no major breakthrough".  The Beijing-bound Malaysia Airlines flight MH370 - carrying 239 people, including five Indians, an Indo-Canadian and 154 Chinese nationals - had mysteriously vanished on March 8 after taking off from Kuala Lumpur.  
Meanwhile, a media report today said the co-pilot of missing plane made a desperate call from his mobile phone moments before the jet went off the radar.  The call from co-pilot Fariq Abdul Hamid's phone, however, ended abruptly, but not before contact was established with a telecommunications sub-station in Penang state, the New Straits Times reported.  The call was made as the jet was flying low near Penang island on Malaysia's west coast, the morning it went missing.