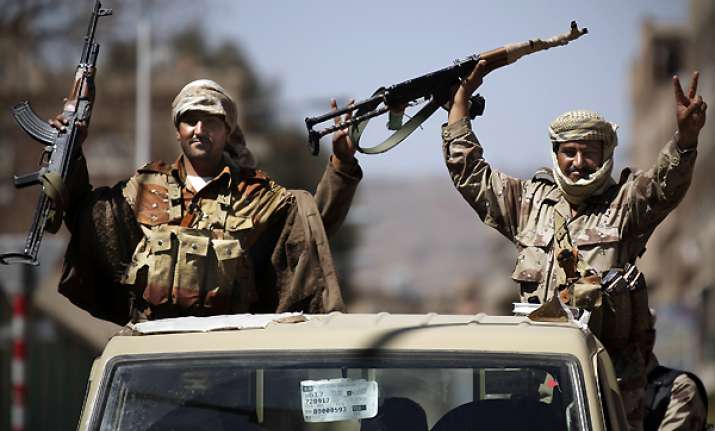 Sanaa, Oct 24: Seven people were killed in violence across Yemen today as President Ali Abdullah Saleh said he welcomed the UN resolution urging him to quit but failed to say if he will comply and resign.

Regime loyalists opened fire randomly on civilians in Yemen's second-largest city Taez killing a child and wounding another, medics and witnesses said.

"A seven-year-old boy was killed by live rounds while a five-year-old was wounded," a medical official told AFP.

Witnesses confirmed saying that armed supporters of Saleh were randomly shooting on the streets of Taez as his troops shelled neighbourhoods in the city's north, allegedly targetting armed dissidents.

An armed man from tribes backing the protest in Taez was killed in dawn clashes with Saleh's forces, a tribal source said.

In the capital Sanaa, tribes backing the nine-month protest movement against Saleh clashed with his loyalists on Monday, witnesses said, after weekend gunfights left more than 20 dead.

The firefight in north Sanaa began after midnight and continued into the morning in Al-Hassaba neighbourhood, the base of tribesmen led by Sheikh Sadeq al-Ahmar, a fierce foe of Saleh, residents said.

A source close to Ahmar told AFP that two of his tribesmen were killed overnight in a bombing carried out by the president's forces, while 13 others were wounded.

Twenty people were killed on Saturday in clashes between between Saleh's loyalists and dissident troops led by General Ali Mohsen al-Ahmar and tribesmen led by Sheikh Sadeq in northern Sanaa.

The clashes erupted in the wake of a non-binding UN Security Council resolution urging Saleh to immediately sign a Gulf-brokered deal to step down.