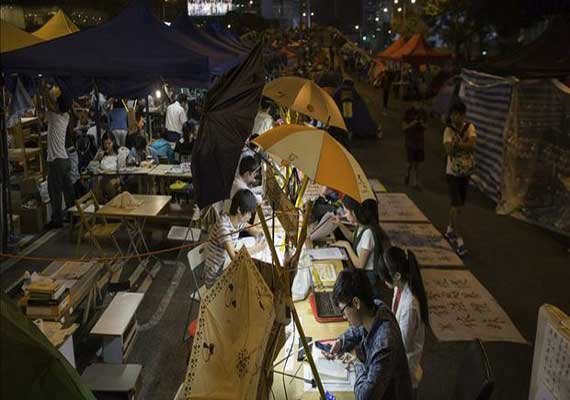 Hong Kong: Pro-democracy activists have built a small church and a Buddhist temple with rubble and recycled material in the Hong Kong streets occupied by the "Umbrella Movement", reflecting the influence of religion in the month-long protests.
These improvised temples, which attract a growing number of people, are next to one another in the main street of the Kowloon district, normally reserved for cars but now occupied by the tents of protesters demanding democracy.
The first Buddhist temple was set up in early October but was destroyed in the tense days of clashes between supporters and opponents of the movement, and consequently, a new one was built in the south.
Its caretaker, Tibetan monk Julian Li, claims to have divinatory powers and predicts that the revolution will end in a triumph and will give independence to the city, making the temple a historic site.
Only 54 yards away stands a small Christian chapel, with crosses and a large effigy of Jesus, in another religious option for democracy supporters in Hong Kong, a city which, due to its historical status as a port, has believers of all possible faiths.
Andrew Tam, a young Anglican who looks after the chapel, says it was first erected Oct 9 and was rebuilt after being destroyed in a scuffle with opponents, thanks to contributions from all Christian denominations, including bottles of holy water.
Catholics, Lutherans, Presbyterians, Orthodox and other Christian groups meet there every night to read the scriptures and receive communion kneeling in the middle of the road, said Tam.
Thanks to the democratic movement, the Christian religion has been able to demonstrate its interest in society's betterment, he said.
The role of religion in Hong Kong's civil resistance movement was given a boost following recent statements by Hong Kong Chief Executive C.Y. Leung Chun Ying, who said in an interview that religious groups did not contribute to the social development of the territory.
Leung, whose resignation is being demanded by the democratic movement, later apologised for his words, but failed to prevent many believers in Hong Kong from joining the protests to demand true democracy, if not in China, at least in the former British colony.