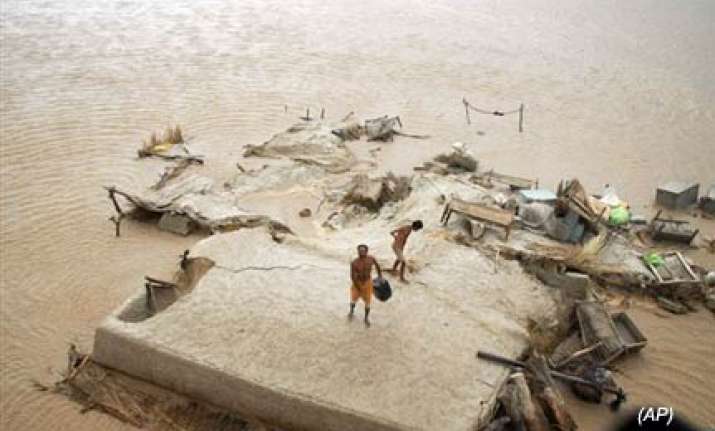 Peshawar/Islamabad: Relief operations in flood-hit areas of northwest Pakistan on Monday focused on preventing waterborne diseases and rushing aid to thousands of affected people even as authorities feared the death toll in the worst floods in the region could be as high as 1,500.  Authorities have said over one million were affected by the widespread devastation.
Tens of thousands of people continue to be stranded or living in the open following the destruction of entire villages in Khyber-Pakhtunkhwa province.  Officials said dozens of medical teams had been dispatched to flood-hit areas to prevent the outbreak of diseases like diarrhoea and cholera.  In a related development, two Pakistan Army units and 100 personnel of the navy were deployed in the Sukkur area of Sindh province, where authorities are expecting fresh floods following the arrival of a new monsoon system.  Twenty relief camps were also set up in the region.
 The administration of Sukkur district imposed emergency in the area and began evacuating people from low-lying regions.  Authorities ordered the immediate shifting of people living near the banks of the Indus river after the irrigation department declared many points on both banks of the river as vulnerable.  Floods in the Sindh river inundated several villages in Katcha area though there were no reports of casualties.  The water level was also rising at the Sukkur Barrage, officials said. 
They added that over 800,000 cusecs of water is expected to reach the Guddu Barrage on August 4.  In Punjab province, authorities began evacuating the residents of 102 villages in Rajanpur district.  District administration chief Iftikhar Rasool said 27,700 people had already been shifted to safer places and 25 relief camps had been set up. 
Officials also said 700,000 cusecs of water was flowing in the Indus river in Rahim Yar Khan district and the level was expected to rise to 900,000 cusecs during the next 24 hours.  Though the flood situation in the district was "normal", the district administration has made necessary arrangements to cope with any emergency, officials said.  In the northwest, rescue workers retrieved 116 bodies as flood waters receded in rivers and streams in the mountainous districts of Swat and Shangla.  Four persons drowned today while trying to cross the swollen Swat river in a boat.  The death toll in these two districts alone was 437.
Authorities said tens of thousands of people in Swat district were in dire need of food and supplies while 250,000 people were stranded in Shangla district, where the entire communication infrastructure had been wiped out.  Over 200 tourists were stilled trapped at Kalam, Madyan and Bahrain in the Swat valley as these areas were cut off from the rest of the country.  Another 500 tourists had been airlifted by helicopters, officials said.  Authorities said they had received reports of hoarders and profiteers charging people in flood-hit areas exorbitant rates for food and essential goods.  Pakistan Meteorological Department chief Qamar-uz-Zaman Chaudhry told reporters in Islamabad that there was a possibility of floods in Sindh province. 
He warned there could be  high-level floods  in the Indus river at Guddu and Sukkur Barrages during August 3-7.  The inundation is likely to affect low-lying areas of Sukkur, Larkana, Nawabshah, Hyderabad and Noshero Feroz districts in Sindh, he said. 
Such high-level flooding has occurred in the country after 80 years, he said.  The Meteorological Office has predicted more monsoon rains this week as a fresh monsoon system that developed in the Bay of Bengal is now over central parts of India. 
This system could cause heavy rains in Sindh, Punjab, Pakistan-occupied Kashmir, Khyber-Pakhtunkhwa and Balochistan.  In the federal capital, Prime Minister Yousuf Raza Gilani directed the Economic Affairs Division and Foreign Ministry to approach the United Nations for preparing an  Emergency Flood Response Plan .  This will facilitate the government in engaging the world community for providing relief and assistance to people affected by the unprecedented floods through an institutional arrangement, Gilani said. PTI