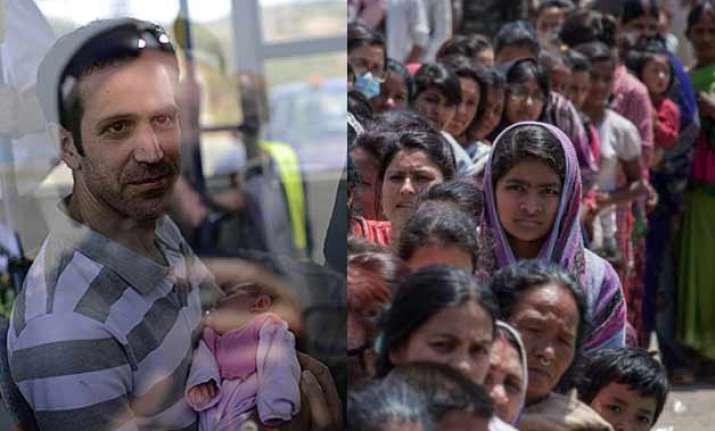 Though the 7.8 magnitude Earthquake hit Nepal and devastated thousands of people in the country, yet there were some, around 3000 miles from Nepal, who got equally affected. These were the gay couples in the country, Israel. Their hearts were equally pounding like many in Nepal when the country fell to tatters. Reason, most of them were having surrogate babies through different women in Nepal.
Despite the fact that Israel is a gay-friendly country, it does not allow the same-sex marriages in its boundaries. The state only recognizes the gay marriages conducted outside Israel, that too, closely guarded by the religious institutions.
The country prohibits gay couples from engaging surrogates inside the territory of Israel as well. Hence, the ones interested to become parents have to look for options off shores.
Many such gay couples had sought relief by having surrogates in the border areas of Nepal. While some of them already gave birth to Israeli babies in few weeks before the Earthquake, there were others who were still in the last trimester and got badly affected in the devastation.
ALSO READ: Israel evacuates its surrogate babies from Nepal, leaves mothers behind
After the catastrophe, when all other countries were evacuating their nationals from Nepal, Israel went ahead too. But, sadly the country only brought back its surrogate babies from the quake-hit nation and left the mothers behind. The only exception that it gave was to the 'heavily pregnant' ladies that they may come to Israel and give birth to babies while others were left as they were.
Earlier these gay couples used to come to countries like India to get ladies agreeing for surrogacy but now, after India made amendments to its rules of surrogacy in 2013, they turned to Nepal. The quake-hit country does not allow its women to go for surrogacy however; it allows the practice in its border areas.
All in all, the quake had left many in lurch. While there are some gay couples of Israel who do not have any clue of their off-springs, there are many surrogate women of both Nepal and India amidst the devastation who are carrying children in their womb and looking for their owners.