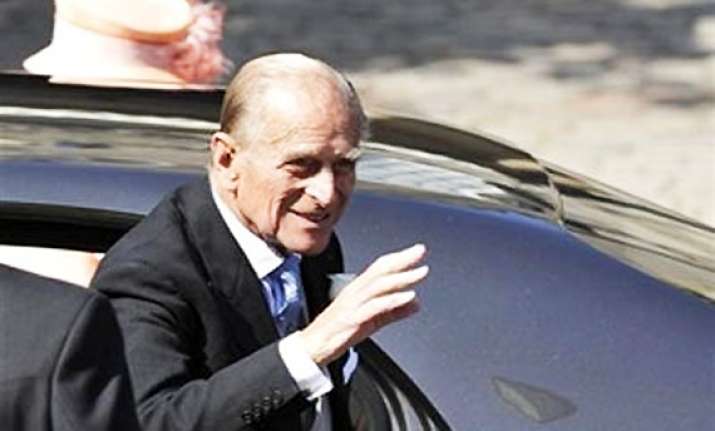 London, Dec 24: Britain's royal family faced a health scare ahead of Christmas when Prince Philip, the 90-year-old husband of Queen Elizabeth II, underwent a successful heart surgery for a blocked coronary artery after being rushed to a hospital with chest pain.

The Duke of Edinburgh was taken to Papworth Cardiothoracic Hospital in Cambridge from Sandringham, the Queen's sprawling estate in Norfolk where the royal family traditionally spends its Christmas break, for "precautionary tests" last night after suffering chest pain. 

The Buckingham Palace said that Prince Philip had a "good night" sleep but was scheduled to remain under observation "for a short period" at the hospital. 

A "minimally invasive procedure of coronary stenting" was successfully performed on him, after which he was described to be in "good spirits" but remains under observation at the hospital, the Palace said.

Following tests at the hospital, Prince Philip was "found to have a blocked coronary artery which caused his chest pain," it said.

He was later visited by Queen Elizabeth and by their sons Edward and Andrew, and daughter, Anne. After they left, the Prince of Wales and the Duchess of Cornwall arrived.  A Downing Street spokesman said: "The prime minister has been kept informed of the situation and wishes the Duke of Edinburgh a very speedy recovery."

Prince Philip is the longest-serving royal consort and celebrated 64 years of marriage to Queen Elizabeth in November.

Earlier, the Duke of Edinburgh was reportedly taken in a helicopter to Papworth, which is the UK's largest specialist cardiothoracic hospital.

Former press secretary to Queen Elizabeth, Dickie Aribiter, told BBC: "He has had these chest pains before and I don't think it's anything untoward, but given his age they are being safe rather than sorry. I am sure we are going to see him on Christmas Day and he can look forward to accompanying the Queen in the new year."

Prince Philip, a member of the Greek royal family, married Elizabeth in 1947, when she was still a princess. 

Prince Philip and the 85-year-old Queen had arrived in Sandringham on Tuesday for their festive break. They were to be joined by the rest of the Royal Family, including Prince William and his wife Kate for a Christmas Day church service followed by a Christmas lunch.

The Queen's husband had been undergoing regular check-ups for his heart for more than a decade at London's King Edward VII Hospital.

In 2008, he was admitted to hospital for treatment for a chest infection.

Dr Simon Davies, consultant intervention cardiologist at the Royal Brompton Hospital in London, said Philip may have been on the verge of a heart attack or actually had one before the stenting procedure was performed last night, Daily Mirror reported in its online edition.

"What they have done is they put a miniature sausage-shaped balloon down the artery, pushed the balloon into the narrowed section and then blown it up.

"That forces the material that is blocking the artery outwards and then gets the blood flowing down the artery again," he was quoted as saying.