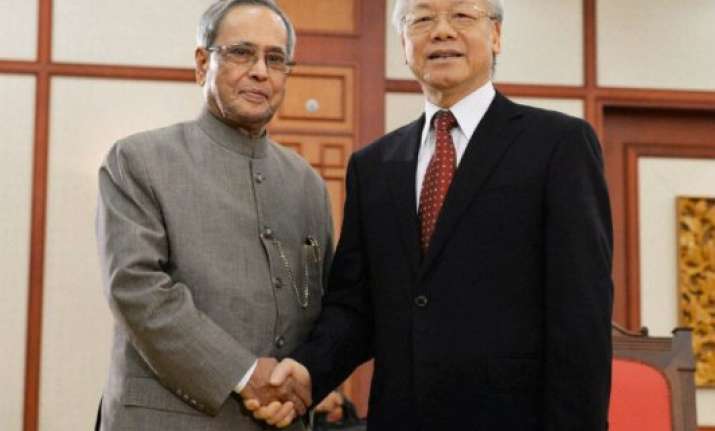 Ho Chi Minh City: In the backdrop of India signing seven pacts with Vietnam, President Pranab Mukherjee yesterday said the scale of mutual cooperation between the two countries is "infinite".
"Today, India and Vietnam are two of the fastest growing economies in the world. The potential of our cooperation is infinite. Both our governments have accorded the fullest encouragement, over the years, to these linkages. Today, we are discussing direct flights between India and Vietnam which will further enhance the connectivity and impulses of goodwill and collaboration.
"Our regular dialogue has resulted in a number of programmes and initiatives in a wide range of areas of common interest. I have no doubt that the agreements we have signed in Hanoi and will take our ongoing cooperation to a new level for the mutual benefit of our peoples," Mr Mukherjee said at his banquet speech hosted by the Member of the Politburo of the Communist Party of Vietnam and Secretary of the Communist Party of Ho Chi Minh City, Le Thanh Hai.
"I take this opportunity to compliment you for your outstanding leadership of this vibrant city and your personal contribution to the strengthening of her business, cultural and educational exchanges with India," he said.
"On his visit to India in 1958, President Ho Chi Minh had referred to 'brotherly India' and proposed a toast to 'the unshakeable friendship of the Indian people and the people of Vietnam'. This sentiment is sustained, cherished and reciprocated even today - just as it was on that day. May our bonds of friendship and our strategic partnership continue to attain even greater heights!" he said.
Mr Mukherjee recalled the old and historic ties between the two nations.
"The relationship between India and Vietnam is unique in its intrinsic affinities. Our cultural and economic relations date back to the 2nd century AD. In the more recent past, India achieved independence through a non-violent struggle and Vietnam did so, around the same time, through the power of its unconquerable spirit, fortitude and courage.
"Mahatma Gandhi lent support to the nationalist movement of the Vietnamese people in its earliest stages and Prime Minister (Jawaharlal) Nehru had been firm in his conviction that the Vietnamese people should have the freedom they dreamed of and the reunification of their nation that they so fervently desired," he said.
He also evoked the thoughts of Rabindranath Tagore.
"Rabindranath Tagore, the iconic Indian poet and philosopher visited Saigon in June of 1929. He evoked this age old relationship in response to the tumultuous welcome he received while simultaneously conveying a message of solidarity from the Indian people.
"He said to the people of Saigon, 'I bring you the greetings of that radiant India, who lavished her light on this land as well as the message of sympathy and brotherhood of present India who lives separated from you by geographic distance and by the dead solitude of her own darkness'," Mr Mukherjee said.
He said Vietnam's largest city was increasingly attracting Indian students.
"It is but natural that Ho Chi Minh City has, over the centuries, attracted Indian sea farers and traders, scholars and professionals and businessmen and investors - from the North and South of India many of whom made Vietnam their home. Today Indian students choose to come here to pursue undergraduate courses at Vietnam National University in Ho Chi Minh City.
"The ancient Indian temples and mosques that stand majestically amidst your modern structures are monuments to our common heritage. They are well preserved and their continuing maintenance by the inhabitants of this city is greatly appreciated by all who visit them," he said in his last official meeting of the day in Ho Chi Minh City.
"As we witness the vigorous pace of life and work in Ho Chi Minh City and perceive the positive energy of its people, it is difficult to imagine that they had, not so long ago, endured an extraordinary struggle against many powerful forces for a prolonged period of time.
"One cannot but marvel at the way this city has transformed itself into a hub of economic activity in the region. Its prosperity bears testimony to the perseverance and success of the Vietnamese people," he said.