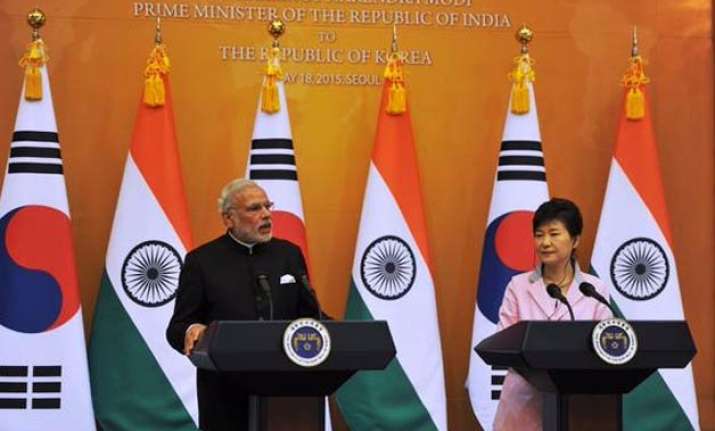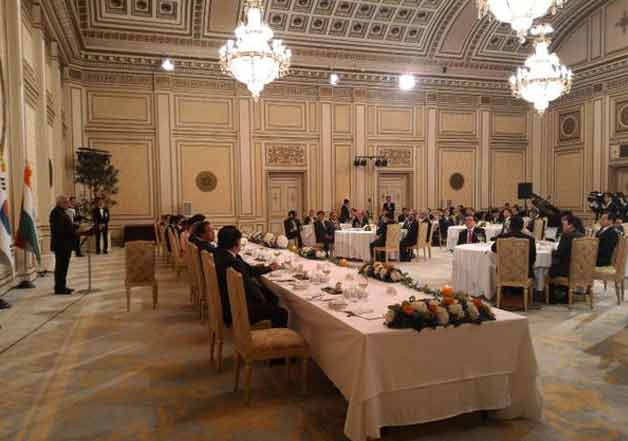 Prime Minister Narendra Modi attended the baquet dinner hosted by the president. In his speech at  banquet dinner, PM explained why Korea matters to Indians.
South Korea today pledged USD 10 billion for financing infrastructure projects, including smart cities and railways, in India.This came during a summit meeting Prime Minister Narendra Modi held with South Korean President Park Geun-hye.
PM Modi meets UN secretary-general Ban Ki-moon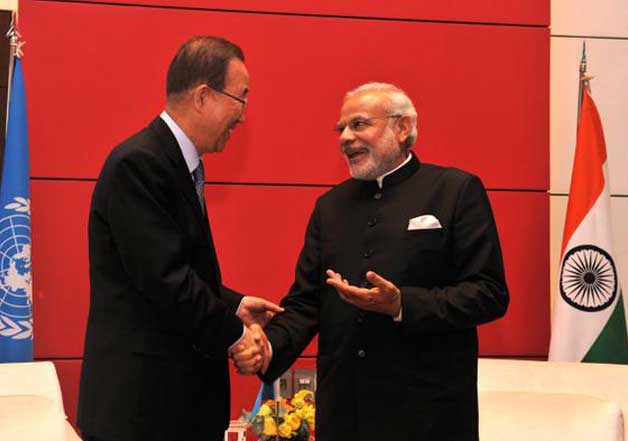 Prime Minister Narendra Modi today  met United Nations Secretary General Ban Ki Moon. Earlier in the day, PM Modi was accorded an official welcome at the Grand Garden in Cheong Wa Da in Seoul city of South Korea.
South Korea today backed India's bid for securing an early membership of the four multilateral export control regimes, including the Nuclear Suppliers Group. Prime Minister Narendra Modi and South Korean President Park Geun-hye held discussions on a wide range of issues, including nuclear non-proliferation and India's bid to join the four multilateral export control regimes -- Nuclear Suppliers Group (NSG), Missile Technology Control Regime, Australia Group and Wassenaar Arrangement. 
Prime Minister Narendra Modi on Monday said that India and South Korea have agreed to expand their defence and security cooperation. The PM has has invited South Korean companies to invest
in the manufacturing of defence equipment in India.
Both the sides inked seven agreements, including for avoidance of double taxation.
In a joint media statement South Korean President Park Geun-hye and Modi said that both the countries have agreed to elevate their bilateral ties to Special Strategic Partnership.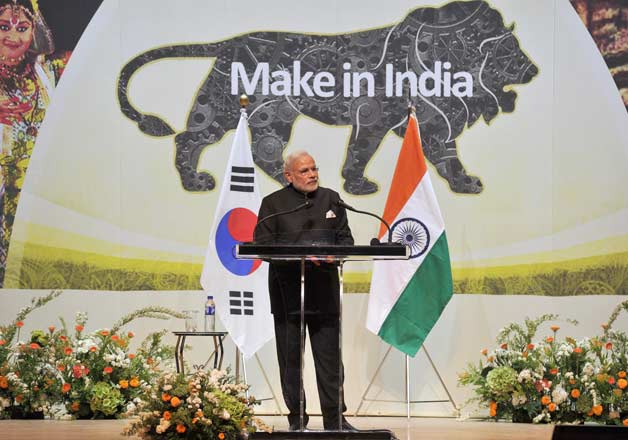 Modi said he and Park "see vast opportunities for Korean companies to participate in our 'Make in India' Mission".
"Besides defence equipment, I invited Korean investments
in areas like ship building, including LNG tankers," he said.
India and South Korea on Monday inked seven agreements, including on Avoidance of Double Taxation and shipping, as Prime Minister Narendra Modi held talks with South Korean President Park Geun-hye here.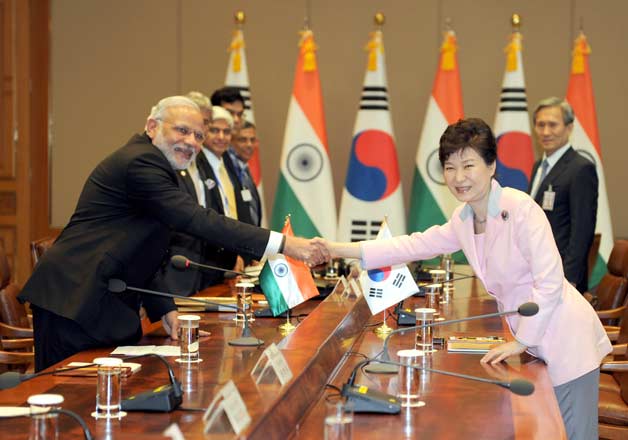 Official welcoming ceremony held for PM Modi in Seoul
Prime Minister Narendra Modi was official welcomed to South Korea at a special Welcoming Ceremony organised in his honour at the President's Official Residence, Cheong Wa Dae, in Seoul.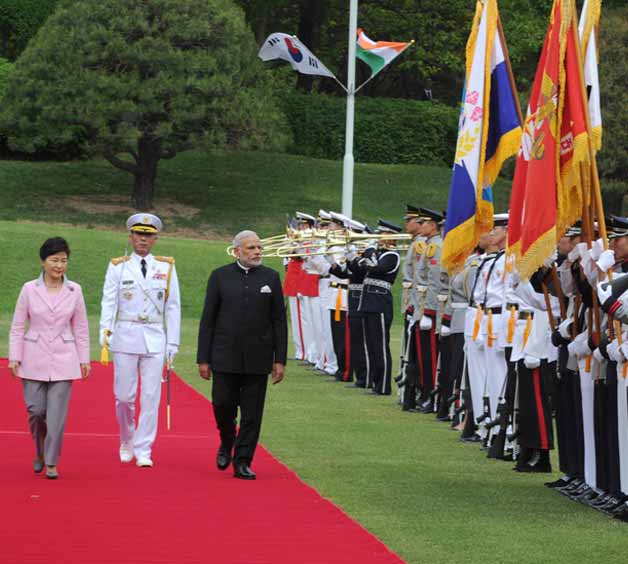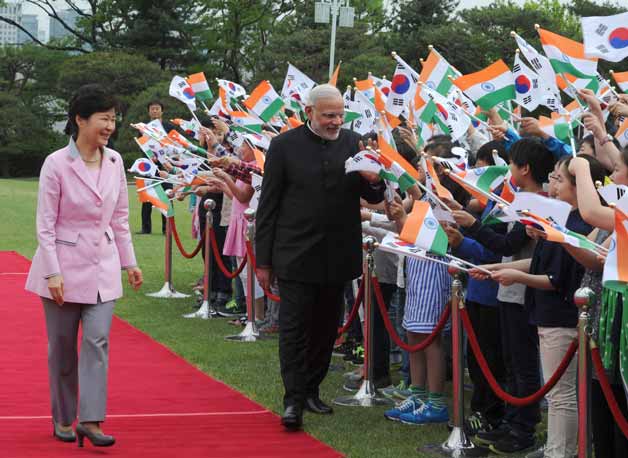 PM Modi  at Indian community reception programme in Seoul
* Human values and humanity should be the focal point, says PM Modi
* Want India to be a manufacturing hub. World's best technology should come to India: PM
* Development is not about big roads & buildings. It's about a change in quality of life. For instance, I want every home to have a toilet: PM
* The path is tough but we have embraced that path. The solution to all problems is development: Modi
Also Read: Modi takes another jibe at UPA; says it's time to 'Act East'
* Today people are excited to come to India. This is the mood that has changed. And after all, the people make the nation: PM
* India is being seen as the fastest growing economy of the world: PM Modi
* In the last one year the world's perception about India has changed: PM Modi
* I decided to meet all of you at the very beginning of my Korea trip. Korea is the lamp of east: Modi at Indian Community Reception #ModiInSouthKorea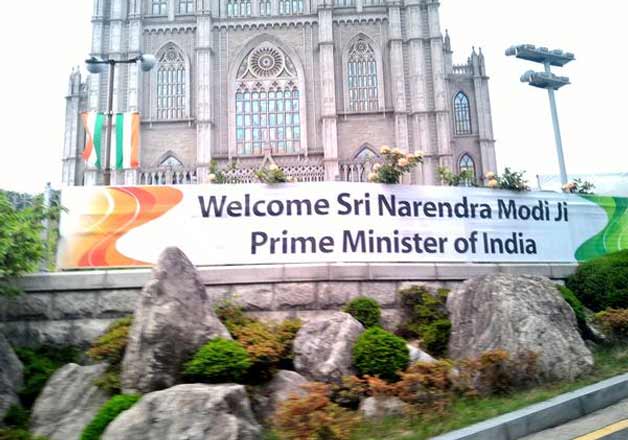 Modi on Monday said it was "wonderful being in Seoul" as he arrived to an enthusiastic welcome from the Indian community.
"Wonderful being in Seoul. My gratitude to the Indian community here for the very warm welcome," the Prime minister tweeted.
Indian community members in large number, waving small tri-colour flags, were at the ROK Airbase to welcome the prime minister, who arrived from Ulan Bator.
"Immense enthusiasm as PM @narendramodi reaches South Korea," the Prime Minister's Office tweeted with a picture of Indian diaspora members enthusiastically greeting the PM.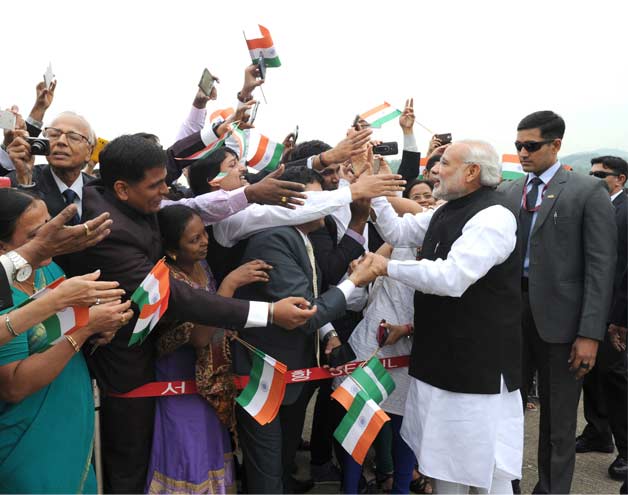 "Indian community welcomes PM @narendramodi to South Korea," the PMO tweeted.
"Annyeonghaseyo to the land of the morning calm! PM @narendramodi arrives in Seoul," External Affairs Ministry spokesperson Vikas Swarup tweeted.
Prime Minister Narendra Modi on Monday visited the Seoul National Cemetery here and paid his tribute to the departed men who made significant contributions to the country. He arrived earlier in the day from Mongolia on a two-day visit.
At the cemetery, he joined a wreath-laying ceremony. This cemetery holds much importance in South Korean history.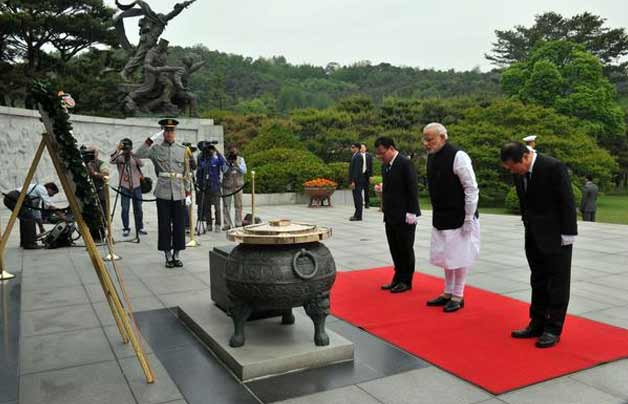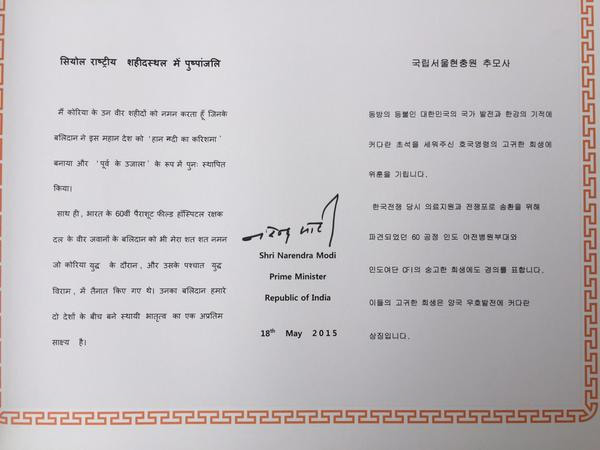 Prime Minister Narendra Modi arrived Seoul today on the last leg of his three-nation visit during which he will hold talks with the South Korean leadership aiming to give a fillip to economic and trade
cooperation.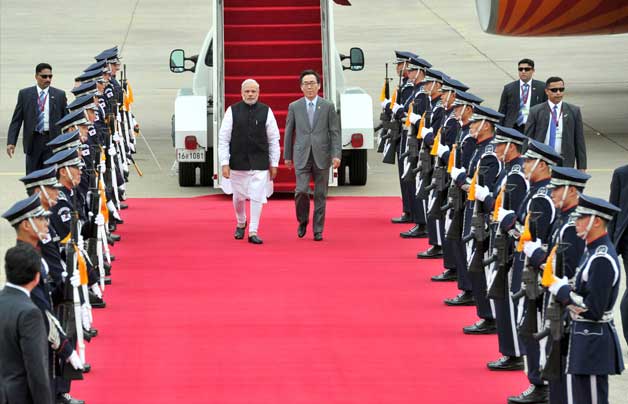 Clad in a black long coat, the Prime Minister waved at the people of Mongolia as he boarded his Air India flight. He interacted with the Mongolian officials and dignitaries before heading on to his next destination.
Modi will be accorded an official welcome after which he will hold talks with South Korean President Park Geun-hye.
The two leaders will on May 19 attend the 6th Asian Leadership Conference in Seoul.
Later, President Park and Mayor of Seoul will accompany Modi on a tour of a stream in the city.
Important business meets and signing of agreements will be a part of Modi's itinerary here as significant business in fields of trade
, shipping, logistics and new energy is expected to be conducted.
He will also attend a reception by the Indian community, during which 1,500 members will be present.