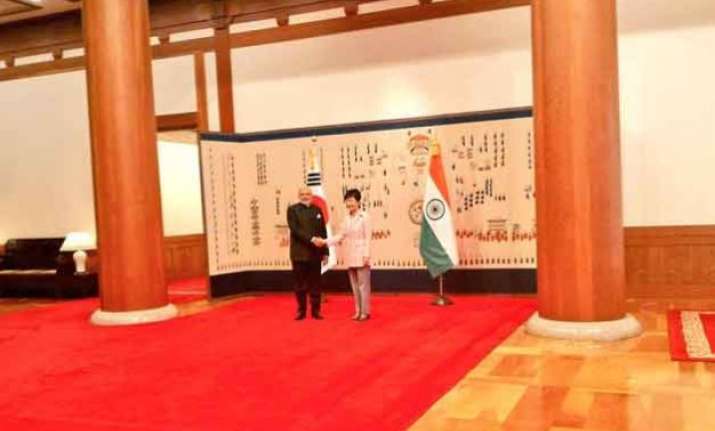 Seoul: Acknowledging that India's inclusion will have a positive influence on strengthening global non- proliferation efforts, South Korea today backed India's bid for securing an early membership of the four multilateral export control regimes, including the Nuclear Suppliers Group.
Prime Minister Narendra Modi and South Korean President Park Geun-hye held discussions on a wide range of issues, including nuclear non-proliferation and India's bid to join the four multilateral export control regimes -- Nuclear Suppliers Group (NSG), Missile Technology Control Regime, Australia Group and Wassenaar Arrangement.
"India and the ROK (South Korea) underlined their shared interest in strengthening global non-proliferation objectives. The ROK took note of India's wish to join the international export control regimes and agreed that India's entry will have a positive influence on strengthening the global non- proliferation regimes," a joint statement issued after the talks said.
"The ROK expressed its support for India's early membership of the four multilateral export control regimes, based upon consensus within each regime," the statement said.
India and South Korea also recognised the need for comprehensive UN reforms including Security Council expansion to make the body more representative, accountable and effective. Both sides agreed to work towards UNSC reforms to reflect contemporary realities and include major developing countries.
The Prime Minister welcomed South Korea's diplomatic efforts to maintain peace and stability of the Korean Peninsula.
Modi said he also shared President Park's concerns that proliferation of nuclear and other weapons of mass destruction will not be in the interest of countries of the region. He offered India's support to Korean people for peaceful reunification of the Korean Peninsula.
The joint statement said that the two leaders expressed concern over the development of North Korea's nuclear weapons and ballistic missile programmes, which was in violation of its international obligations and commitments.
During the talks, the two leaders also discussed the issue of terrorism and reiterated their commitment to the eradication of terrorism in all its forms and manifestations and called on international community to work closely to address this challenge.
They called for an early conclusion of negotiations on the Comprehensive Convention on International Terrorism.
The two sides "recognised the need to eliminate terrorist safe havens and infrastructure, disrupt terrorist networks and their financing, and stop cross-border movement of terrorists, including by implementing the relevant United Nations Security Council resolutions, as well as enhancing countering violent extremism efforts," the statement said.