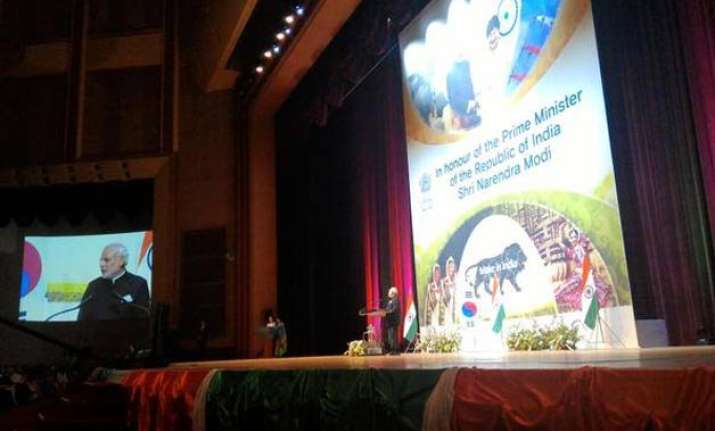 Seoul: Prime Minister Narendra Modi today took another jibe at previous governments which practiced 'Look East' policy, saying India has had enough of it and it's time to 'Act East'.
"Earlier, it was 'Look East Policy'. We have had enough of looking east. We now have 'Act East Policy' - a key component of my government's foreign policy," Modi told Indian diaspora during a community reception at the Kyung Hee University here in the South Korean capital.
'Look East' policy was first coined by the Narasimha Rao government in the 1990s and has been followed by the successive governments.
Modi also referred to economic experts saying that in the five-member BRICS grouping India was struggling but since last year (after his government came to power) things have changed.
"Since the last one year, the world is now saying that I (India) is an important segment of BRICS and the grouping can not be imagined without I (India)," said Modi, who arrived here from Mongolia today on the last leg of his three-nation tour which also took him to China.
At a similar community reception in China's economic hub Shanghai last week, Modi broke his silence on opposition criticism over his frequent foreign visits and took veiled digs at his critics back home, saying he was being attacked for "tireless" work and asserted that if it was a "crime" he would continue to do it.
Modi, who came under attack over his criticism of previous governments during his last trip to Germany, France and Canada, said: "People are asking why is Modi travelling to so many countries...If you work less, criticism is normal. If you keep sleeping, criticism is normal. But it is my bad luck that I am being criticised for working more."
During his speech today, Modi pitched for his 'Make in India' initiative and said that he wants to make India a manufacturing hub using the world's best technology.
He invited Indians settled abroad to come and invest in the country, saying the mood and the perception about India has changed in the last one year.
"World's best technology should come to India," he said, adding that India has to attain new heights of achievements.
"Today, people are excited to come to India. This is the mood that has changed. And after all, the people make the Nation," he said.