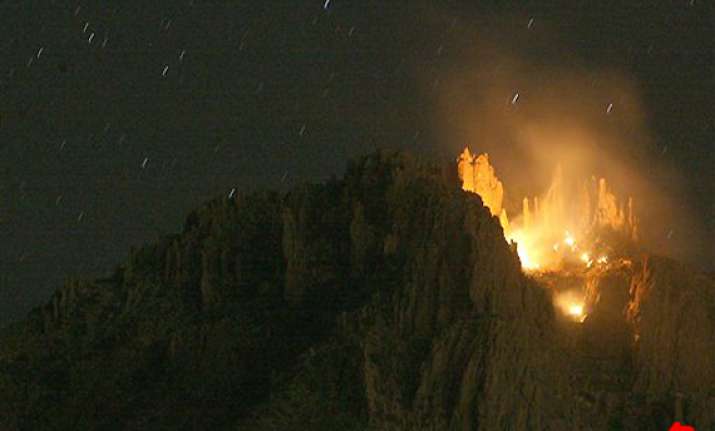 Phoenix, Nov 24: Authorities said Thursday they are "not hopeful" for survivors after a small plane carrying three adults and three children for the Thanksgiving holiday crashed in flames in the Arizona mountains.

The body of one child was recovered after the plane struck the mountains while going about 200 mph (321 kilometers), Pinal County Sheriff Paul Babeu said. A pilot, a mechanic and another adult were also on board, Babeu said. The children reportedly were between the ages of 5 and 9.

Authorities started getting calls reporting a mushroom-like explosion near a mountain peak 40 miles (64 kilometers) east of downtown Phoenix on Wednesday evening. Flames could still be seen hours after the crash.

Some witnesses told Phoenix-area television stations they heard a plane trying to rev its engines to climb higher before apparently hitting the mountains. The elevation is about 5,000 feet (1,524 meters) at the Superstition Mountains' highest point.

Rescue personnel were using infrared devices to search for bodies, but had not been able to detect any sign of movement, sheriff's spokesman Elias Johnson said.

"It does not look promising," Babeu said at a news conference Wednesday night. Calls to Falcon Field, which mostly serves small, private planes, weren't immediately returned.

Rescue crews flown in by helicopter to reach the crash site in rugged terrain reported finding two debris field on fire, suggesting that the plane broke apart on impact.

The region is filled with steep canyons, soaring rocky outcroppings and cactus.