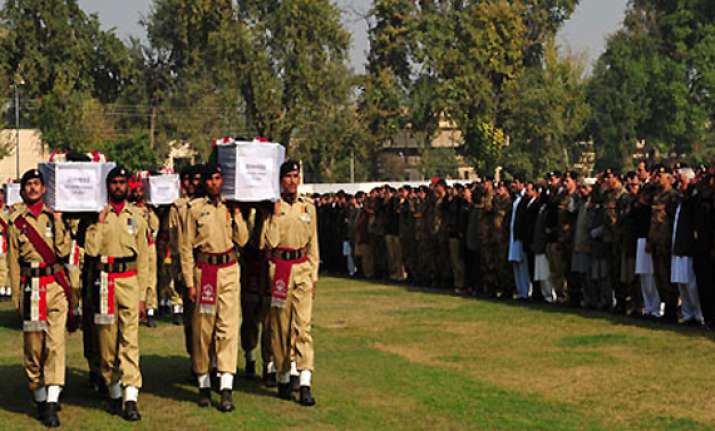 Islamabad, Nov 27: Pakistan today buried its 24 soldiers killed in a cross-border air strike by NATO aircraft amidst mounting public anger over the incident that has pushed the already strained ties with the US to a new low.

Senior military commanders, including army chief Gen Ashfaq Parvez Kayani, and civilian leaders like Khyber-Pukhtunkhawa Governor Masood Kausar attended the funeral prayer in Peshawar for the soldiers killed in yesterday's attack in Mohmand tribal region.

The officials laid wreaths on coffins draped with green and white Pakistani flags. Later, the bodies were sent to their hometowns of the soldiers for burial. Kayani visited the military hospital in Peshawar and met other soldiers who were injured in the incident.  The attack by NATO aircraft took the already strained Pakistan-US ties to a new low.

Bilateral ties have been buffeted since the beginning of the year by a series of incidents, including the killing of two Pakistani men by CIA contractor Raymond Davis and the US military raid that killed Osama bin Laden in May.  The Pakistan Army put the death toll in the NATO air strike at 24 though officials were quoted by the media as saying that 28 soldiers were killed.

Two officers - Maj Mujahid Hussain and Capt Usman Ali - were among the dead.




Pakistanis took to social media websites like Facebook and Twitter to express their dismay and concern and the media reflected the public anger over the attack.

"US stabs Pakistan in the back, again," said a headline in the Daily Times while headline in The Express Tribune read: "Pakistan inflamed as 24 killed in NATO strike".

About 500 members of Jamaat-e-Islami, Pakistan's most influential religious party, staged a protest in Mohmand tribal area, where the NATO attack took place.

"Down with America" and "Jihad is The Only Answer to America", they yelled.

Around 40 troops were stationed at the outposts at the time of the attack, military sources said. Two officers were reported among the dead.

"They without any reasons attacked on our post and killed soldiers asleep," said a senior Pakistani officer, requesting anonymity.

Thousands of people gathered outside the US consulate in the city of Karachi on Sunday to protest against the attack that killed 24 Pakistani troops.

The protesters shouted "Down with America".

One young man climbed on the wall surrounding the heavily fortified compound and attached a Pakistani flag on barbed wire.