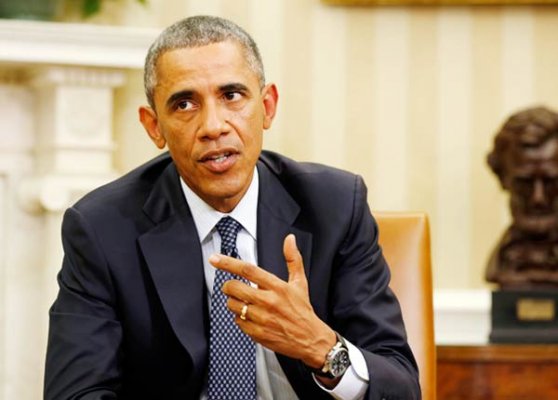 Washington: US President Barack Obama has reviewed his administration's strategy against the Islamic State with his national security team, during which he discussed the status of comprehensive campaign to counter the feared militant group in Iraq and Syria.
Obama held the meeting at the State Department, which among others was attended by the Vice President, Secretaries of State, Defense and Treasury and National Security Advisor.
"He received an update on the political and security situation in Iraq and Syria. The President reviewed ongoing coalition efforts to help train, advise, and equip Iraqi ground forces to reinforce their capacity to effectively counter ISIL," the White House said.
ISIS or ISIL is an al-Qaeda splinter group and it has seized hundreds of square miles in Iraq and Syria, declaring an Islamic Caliphate.
"President Obama also discussed ways to continue to support and strengthen the moderate Syrian opposition in coordination with regional partners," it said.
Early this month, Obama had a similar meeting at the Pentagon.
"The Pentagon obviously has a very important role in our strategy to degrade and ultimately destroy ISIL. The State Department also has an important role in terms of working through our diplomatic channels to build this broad international coalition in support of this broader effort," White House Press Secretary Josh Earnest said.
Meanwhile, the Pentagon said the US-led international coalition against ISIL continues to gain momentum and strength.
"We believe the strategy is working; that the policy is sound, the coalition continues to gain both momentum and strength. And we know we're having a direct effect on ISIL inside Iraq and inside Syria," Pentagon Press Secretary Rear Admiral John Kirby said.