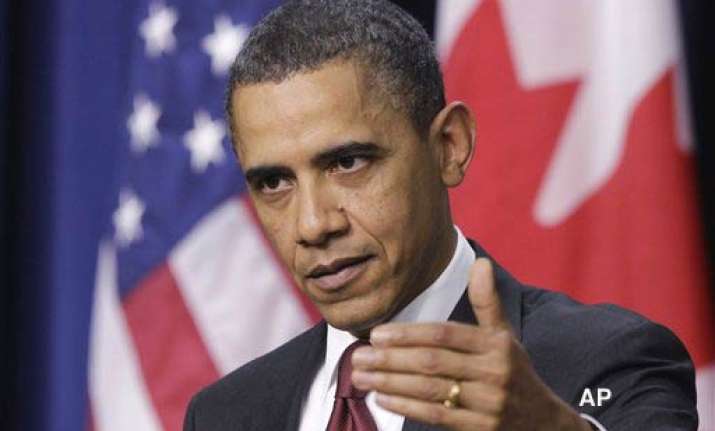 Washington, Feb 5 (PTI) Reiterating his call for immediate start of an "orderly transition" in Egypt, US President Barack Obama has hoped that Egyptian President Hosni
Mubarak would be able to make the "right decision".
"In order for Egypt to have a bright future, the only thing that will work is moving an orderly transition process that begins right now that engages all parties, leads to
democratic practices, fair and free elections, and representative government that is responsive to the grievances of the Egyptian people," Obama said.
The US President said that since Mubarak has himself announced he is not going to be running again, he should be thinking on how to leave a legacy behind in which Egypt is
able to get through this transformative period.
"My hope is that he (Mubarak) will end up making the right decision," Obama said at a joint news conference with Canadian Prime Minister Stephen Harper yesterday.
Terming the Egyptian President as a proud patriot, Obama said he has suggested Mubarak that he needs to consult with those who are in his government.
"He needs to listen to what's being voiced by the Egyptian people, and make a judgment about a pathway forward that is orderly but that is meaningful and serious," Obama
said, adding that he has had two round of talks with the Egyptian President so far.
"Having made that psychological break, that decision that he will not be running again, I think its most important for him to ask himself, for the Egyptian government to ask itself
as well as the opposition to ask itself is, how do we make the transition effective, lasting and legitimate?" Obama said.
During each of his conversations with Mubarak, Obama said he emphasised the fact that the future of Egypt is going to be in the hands of Egyptians.
"It is not us who will determine that future. But I have also said that in light of what's happened over the last two weeks, going back to the old ways is not going to work.
"Suppression's not going to work. Engaging in violence is not going to work. Attempting to shut down information flows is not going to work," the US President said.
He said change in government and the leadership is not a decision that US or any country outside of Egypt makes.
"What we can do, though, is affirm the core principles that are going to be involved in that transition. If you end up having just gestures towards the opposition but it leads to
a continuing suppression of the opposition, that's not going to work. If you have the pretense of reform but not real reform, that's not going to be effective," Obama said. PTI