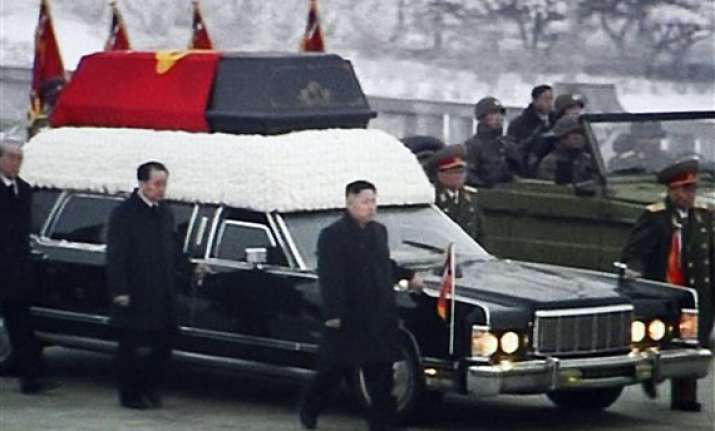 Seoul, Dec 28: Tens of thousands of weeping North Koreans bade farewell today to longtime leader Kim Jong-Il as his young son and successor walked beside his father's coffin through a snowbound Pyongyang.

Kim Jong-Un was at the forefront of the three-hour procession, in what analysts said was an attempt to bolster the image of the untested new leader of the impoverished but nuclear-armed nation.

The cortege started and ended its 40 km (25 mile) journey at the Kumsusan Memorial Palace, where the late strongman's body had lain in state in a glass coffin.

Preceded by a car bearing a huge portrait of a smiling Kim and other vehicles, a limousine carried Kim's coffin— draped with a red ruling party flag and surrounded by white flowers—on its roof.

Jong-Un, dressed in black and gloveless despite the cold, held the side of his father's hearse, accompanied by his influential uncle Jang Song-Thaek and other officials.

"We have paraded here to bid farewell to our respected supreme commander," the head of a military honour guard said in a tearful voice, before a 21-gun salute was fired at the end of the ceremony.

Goose-stepping soldiers carrying dozens of party and military flags marched in salute to Jong-Un and senior officials.

Kim Jong-Il's absolute 17-year rule was marked by a 1990s famine that killed hundreds of thousands, a crumbling state-directed economy and the pursuit of missiles and nuclear weapons which brought international sanctions.