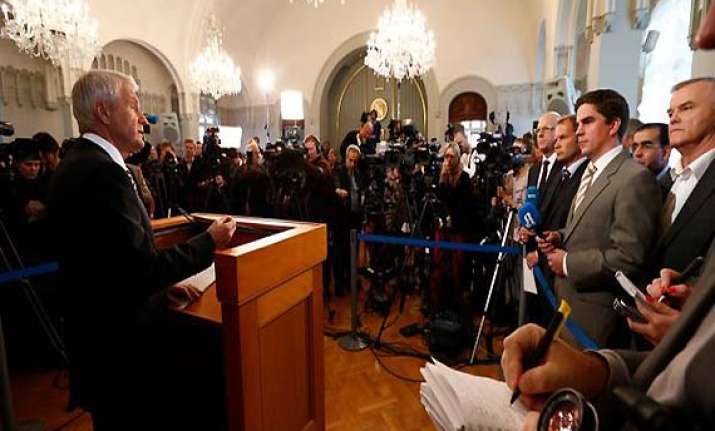 Beijing, Dec 6: The Nobel Committee is seeing its influence dwindling, a state-run Chinese daily said Thursday after a group of Nobel laureates urged the new leadership to free Nobel Peace Prize winner Liu Xiaobo.
On Tuesday, 134 Nobel laureates published an open letter, urging the new leadership of China to release Liu Xiaobo, the Nobel Peace Prize winner of 2010. These laureates were from across all six Nobel disciplines, and among their ranks are 12 Peace Prize winners including the Dalai Lama.
Liu Xiaobo co-authored a manifesto that calls for political reform and greater rights in China.
An article in the Global Times said that in recent years the choice of the Nobel Peace Prize winners, from US President Barack Obama in 2009 to this year's pick of the European Union, has increasingly made the "public scratch its head".
"Certainly, the decision to award the prize to dissident Liu Xiaobo infuriated Chinese society," it admitted.
"It seems that the Nobel Committee has missed the real focus of the world, and consequently has seen its influence dwindling," said the daily.
The article wondered how many of the 134 Nobel laureates have first-hand experience of China, "let alone aware of the changes that have taken place in terms of China's political freedom in recent years".
"...In their eyes, a few dissidents speak for all of China. A sense of moral superiority still persists among Western elites and their followers."
The daily stressed that as far as Chinese society is concerned, "this letter only made them believe that the West is in no way ready to accept a robust China that is different from the West, as the Nobel Committee and these laureates have constantly clashed with Chinese values".
"Does this non-conciliatory approach stand for the principle of promoting peace that the Nobel Peace Prize claims itself to do?" it asked. "Aside from cheap publicity, this open letter doesn't offer any real value."
The daily went on to say that it was becoming clear to the Chinese that "so-called human rights activists from abroad cannot bring real change to the welfare of the country except for empty preaching".
The Chinese government and its people are really responsible for the progress of this country.
"They deserve more applause from these Nobel laureates, if these laureates really do care about what's happening in China," said the daily, hoping that the Nobel Committee and the 134 Nobel laureates take a more objective position and a fair look at China.