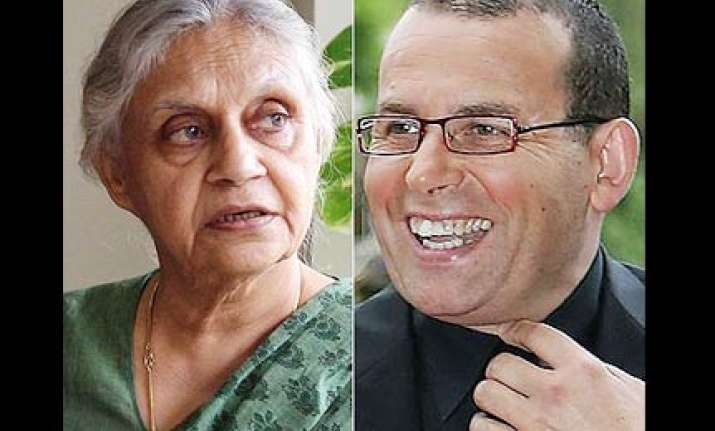 Melbourne, Oct 6: A prominent New Zealand TV host, already under suspension over a race row involving the Indian-origin Governor General, has courted controversy again by deliberately mispronouncing Delhi Chief Minister Sheila Dikshit's name in a video clip.
The TVNZ channel that posted the controversial clip has received at least four complaints against it.  
New Zealand Indian Central Association president Paul Singh Bains said the fact that TVNZ was still promoting the clip on its website showed it had "totally lost the plot" and was insensitive to the offence Henry had caused.  In the clip, Henry is shown ridiculing Dikshit's name, mispronouncing it deliberately.  
The video -- which now appears to have been removed -- was promoted on the Video Extras section of TVNZ's website under the heading "Paul Henry laughs about the name Dikshit".  
The fresh controversy has come on the top of racial allegations that Henry is already facing after he questioned Prime Minister John Key on Indian-origin Governor General Anand Satyanand, asking him: "Is he even a New Zealander? Are we going to go for someone who is more like a New Zealander?"  
Bains said he accepted Dikshit's name and other Indian names could be difficult to pronounce, but Henry reportedly went overboard to ridicule it.
He said the fact that TVNZ left the clip on its website, shows it is insensitive to the offence.  Henry was suspended yesterday until October 18, after the channel received a record 600 complaints against his Anand comments.
"TVNZ have lost the plot. I honestly think the credibility of TVNZ is down the tubes through this," Bains said, as he demanded that Henry be sacked.  
"He should be sanctioned more than that. He should be eliminated from that spot. He should be sacked and given another role somewhere else.  
"He has an attitude about Indians and all other ethnicities for that matter. If we sound different, if we look different, he thinks there's no place for us in New Zealand," an offended Bains was quoted as saying by 'The Age' here.
TVNZ spokeswoman Andi Brotherston, meanwhile, said the website was an independent news organisation and enjoyed its editorial independence.
"(It) is part of TVNZ's news and current affairs department, which has its editorial independence enshrined in legislation," she said.
She did not say whether TVNZ chief executive Rick Ellis, who suspended Henry from his Breakfast role and is TVNZ's editor-in-chief, had control over the content on the website. PTI