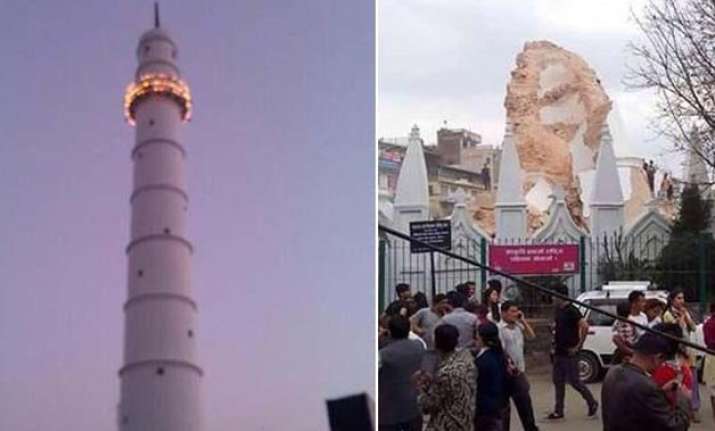 Kathmandu: Tapan Singh was standing in a queue to buy a bus ticket when all of a sudden the ground beneath his feet started shaking. He froze with shock as he saw the 183-year-old iconic Dharahara tower come crashing down, burying scores of people.
There is rubble, white plaster and red bricks all around where the 50.5-metre tall tower once stood. One cannot stay there for more than a minute because of the nauseating stench of rotting bodies.
"I saw the Dharahara tower shaking, and then it crashed down with a deafening sound. I could not hear anything for a minute, could not do anything," Tapan Singh said.
"It was our ' Eiffel Tower ', it was the pride of Kathmandu ," he said.
A 7.9-magnitude earthquake on April 25 caused widespread devastation across the Himalayan nation, killing over 4,300 people and injuring more than 7,500.
According to the Nepal Police headquarters, around 250 people were killed when the tower collapsed on April 25 in the massive earthquake.
The nine-storey, over 50-metre-tall tower was built in 1832 by Nepal 's first prime minister Bhimsen Thapa. It was built as a military watch tower but became one of Kathmandu 's key landmarks. Visitors could climb to the top to get a panoramic view of the capital.
Disaster management teams from many countries, including Japan and Germany , are working hard to clear the debris. Accompanied by sniffer dogs, these teams are looking for more bodies in the rubble.
According to locals, some people were on top of the tower when it collapsed.
On Tuesday, hundreds of people still visited the site to look at the rubble.
An official of the Archaeological Survey of Nepal said that though the tower will be reconstructed, it "cannot be restored to its original glory".
The owner of a nearby hotel said the tower was like an "antique piece worth a million dollars".
In Basantapur area of Kathmandu , a centuries-old palace also suffered severe damage.
The palace "may need 10 years to be repaired", the official said.
Though many other temples also were damaged, the Kumari Ghar (or the residence of the living goddess) -- another iconic location at the Kathmandu Durbar Square -- is curiously intact.