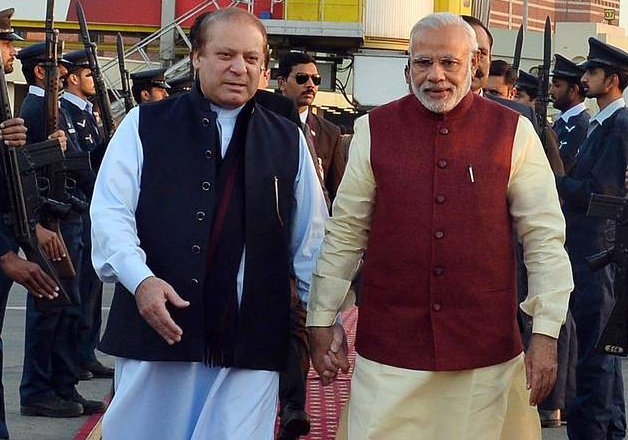 Islamabad/New Delhi: Pakistan Prime Minister Nawaz Shairf is likely to meet his Indian counterpart Narendra Modi in Washington next month on the sidelines of a nuclear summit hosted by US President Barack Obama.
Sharif and Modi have both accepted President Obama's invitation to attend a nuclear summit he is hosting in Washington on March 31 and April 1, diplomatic sources said. "The chances are strong, very strong," a senior Pakistani government official told the Dawn.
"But you know the history of India-Pakistan talks, you cannot be certain about an event until it has happened," the official added.
It will be the first time that both Indian and Pakistani Prime Ministers will be attending the nuclear security summit, which President Obama initiated in 2010.
The conference will be the first for India and Pakistan to carry forward bilateral ties. Last year, Modi had made a surprise stop in Pakistan to meet his counterpart in a symbolic gesture to 'add momentum to reconciliation process' between the two nations, but the terror attack on IAF base in Pathankot by Pakistan-based terror group derailed the schedule Foreign Secretary-level talks.
Meanwhile, Pakistan has sought an early date for the crucial Foreign Secretary-level talks with India after the latter's envoy recently suggested that the meeting was not conditional to progress in the Pathankot attack probe.
According to Foreign Office (FO) spokesperson Muhammad Nafees Zakaria said Pakistan had noted the policy statement given by India's High Commissioner Gautam Bambawale. "In view of the statement, it is our view that the date of the foreign secretary-level talks should now be decided as early as possible," he said.
The Foreign Secretaries of India and Pakistan were set to meet in the middle of January but the talks were postponed following an attack on the IAF base in Pathankot. New Delhi blamed the attack on Pakistan-based Jaish-e-Muhammad militant group.
The two sides at that time said the talks would be rescheduled in the near future but no announcement on the dates has been made since then with both Pakistani and Indian authorities saying that they are in touch contact with each other over the issue.
With IANS Inputs