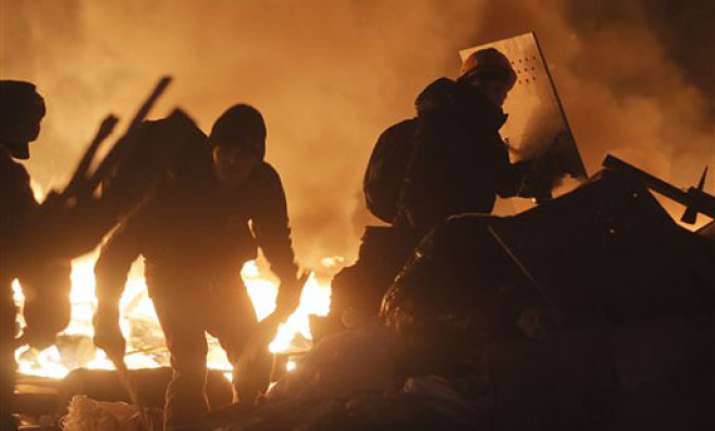 Kiev: Amid cries of ''Glory to Ukraine!'' and with flaming tires lighting up the night sky, thousands of riot police armed with stun grenades and water cannons attacked the sprawling protest camp in the center of Kiev on Tuesday, following a day of street battles that left 18 people dead and hundreds injured.
The violence was the deadliest in nearly three months of anti-government protests that have paralyzed Ukraine's capital in a struggle over the nation's identity, and the worst in the country's post-Soviet history
With the boom of exploding stun grenades and fireworks nearly drowning out his words at times, opposition leader Vitali Klitschko urged the 20,000 protesters to defend the camp on Independence Square that has been the heart of the protests.
''We will not go anywhere from here,'' Klitschko told the crowd, speaking from a stage in the square as tents and tires burned around him, releasing huge plumes of smoke. ''This is an island of freedom and we will defend it,'' he said.
Many heeded his call.
''This looks like a war against one's own people,'' said Dmytro Shulko, 35, who was heading toward the camp armed with a fire bomb. ''But we will defend ourselves.''
As police dismantled some of the barricades on the perimeter of the square and tried to push away the protesters, they fought back with rocks, bats and fire bombs.