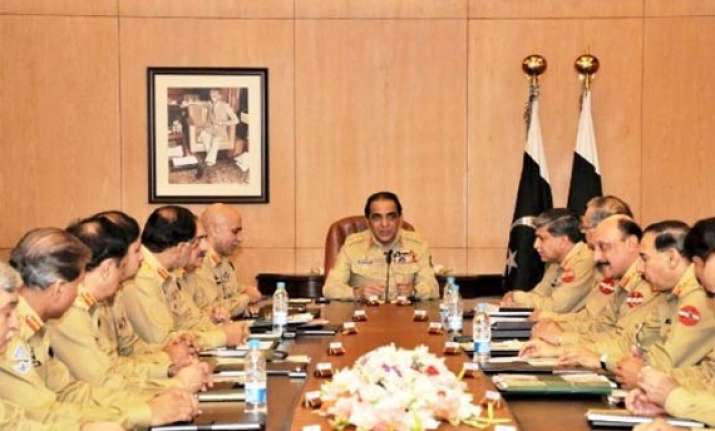 Islamabad, Jan 12: Pakistan Army chief Gen Ashfaq Parvez Kayani held a marathon nine-hour-long meeting with top commanders today against the backdrop of an escalating row with the civilian government over the memo scandal.

Kayani met with top commanders at the General Headquarters in the garrison city of Rawalpindi, a military official told PTI.

The official declined to be identified as he was not authorised to speak on the issue.

The meeting was attended by both the Principal Staff Officers, or senior generals serving at the General Headquarters, and the Corps Commanders, who head formations across the country, other sources said.

The issues that figured at the meeting could not immediately be ascertained and there was no word from the military's media wing.

The meeting was held hours before lawmakers gathered for an urgent session of the National Assembly or lower house of parliament convened by the government to discuss a warning from the Supreme Court that action could be taken against the President and Prime Minister for failing to reopen high-profile corruption case.

The meeting of the army commanders and the parliamentary session came a day after the confrontation between the military and the government came to a head. 

The military yesterday warned that Prime Minister Yousuf Raza Gilani's criticism of the army and intelligence chiefs could have "grievous consequences".

Shortly after the military issued a strongly worded statement rebuking the civilian government, Gilani fired Defence Secretary Lt Gen (retired) Khalid Naeem Lodhi, consider a confidant of the army chief.

Today's meeting between Kayani and the army commanders is expected to fuel further speculation about the standoff between the government and the military. 

Analysts believe the army is unlikely to assume power through a coup and may instead favour action being taken against the government by the Supreme Court, which has been angered by Gilani's refusal to reopen graft cases against President Asif Ali Zardari.

The confrontation began last year when Pakistani-American businessman Mansoor Ijaz made public an alleged memo written to the then US military chief, asking for help in preventing a feared coup after the killing of Osama bin Laden in Pakistan im May last year.

At the same time, the Supreme Court has been pressuring the government to revive cases of alleged money laundering against Zardari in Switzerland.