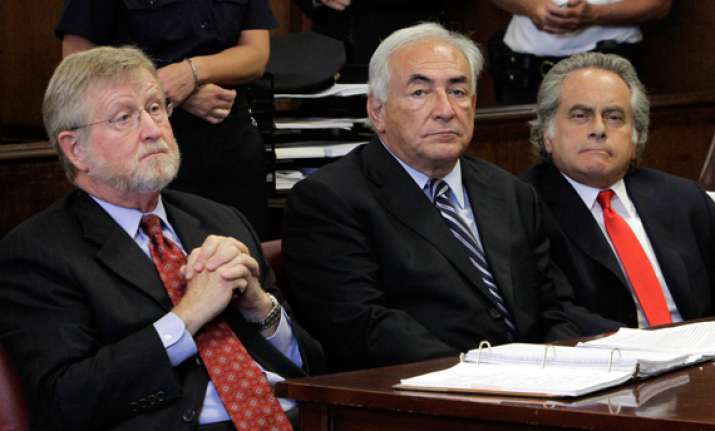 New York, Aug 23:   A US judge today dropped all sex crime charges against former IMF chief Dominique Strauss-Kahn, a move that could bolster his plans to contest the next French Presidential elections in 2012.

The dismissal will take effect once an appeal against it has been ruled on.

"I see no basis to deny," New York court Judge Michael Obus said ending an over three-month long saga that brought down one of the world's most powerful men and caused a global uproar.

The prosecution, which had yesterday moved a motion for dropping all sexual assault charges against Strauss-Kahn, said the evidence collected in the case was "consistent with a non-consensual encounter" but decided to drop the case because they could not prove it was forced and the woman told too many lies.

Strauss-Kahn, 62, was arrested on May 14 after being pulled from an Air France flight bound for Paris after Nafissatou Diallo, a 32-year-old maid working at  Manhattan Sofitel hotel, said he chased her down and forced her to perform oral sex.

He was charged with criminal sex act, attempted rape and unlawful imprisonment besides other violations.  His arrest forced him to resign as head of the IMF on May 18 and abandon his bid for upcoming French Presidential elections.

But the case against Strauss-Kahn had been considerably weakened after it emerged that the maid has been lying to prosecutors, including about a gang rape she said she suffered back in her home country of Guinea.

In addition, she was said to have discussed his wealth in a telephone conversation with a Guinean friend currently held in a US prison.
Earlier, the New York court had dismissed a plea of a lawyer of Diallo for the removal of the district attorney for mishandling the high-profile case.

Kenneth Thompson, the lawyer had filed a motion in court yesterday formally requesting that Manhattan district attorney Cyrus Vance be removed from the case.  The lawyer had suggested that the district attorney had mishandled the case. However, the court did not find any merit in the plea.

"After considering the allegations in the complainant's application, in light of the circumstances of this case, the court concludes that nothing called to its attention established disqualification or warrants removal of the elected district attorney of this county," the judge said as the hearing resumed in the case today.

Thompson said an appeal would be filed in the above connection within the Court stipulated 30-day period.  Meanwhile, in the fullest official account of the case, prosecutors had said physical evidence does not conclusively prove allegations that the then International Monetary Fund (IMF) chief sexually assaulted Diallo.  The case then collapsed because the maid, whose testimony would be key, told repeated lies.

"Their cumulative effect would be devastating," prosecutors said in their 25-page motion asking the court to dismiss all charges.

What is sure is that a 'quick sexual encounter' took place between Strauss-Kahn and Diallo, prosecutors said.  DNA testing "established that several stains located on the upper portion of the complainant's hotel uniform dress contained semen that yielded the defendant's DNA," the Manhattan District Attorney's Office had said in the motion.

Evidence collected was "consistent with a non-consensual encounter," prosecutors said.

However, the DA's office said the physical evidence, while showing a sexual encounter, did not conclusively prove the maid's assertion that she was assaulted and forced to perform oral sex.

Diallo showed no injuries strongly indicating attempted rape and slight damage to her undergarments could have occurred from normal wear and tear, the motion said.  However, other factors, such as the hurried nature of the sex act that resulted in Strauss-Kahn's semen landing on the maid's clothing, pointed to a 'forced encounter'. 

"The encounter between the complainant and the defendant was brief, suggesting that the sexual act was not likely a product of a consensual encounter," the motion said With the charges expected to be dropped, Strauss-Kahn is almost set to walk free after spending over two months in detention—first in a New York prison and then under house arrest with electronic surveillance.

However, Strauss-Kahn has also been sued for attempted rape by 32-year-old writer Tristane Banon in his home country France, in connection with an incident that occurred in 2003.

Despite the apparent collapse of the New York case, he could still face further sexual assault charges when he returns to France. PTI