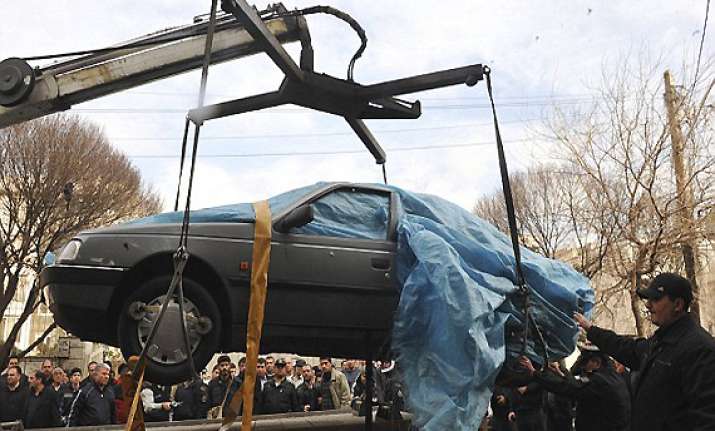 London, Jan 11: An Iranian university professor working at a nuclear facility has been killed after two assailants attached magnetic bombs to his car.

The explosion in Tehran killed Mostafa Ahmadi Roshan, a chemistry expert and a director of the Natanz uranium enrichment facility in the centre of the country, according to Fars news agency.




It is the latest in a series of similar assassinations of Iranian scientists that Tehran has blamed on Israeli and U.S. attempts to halt its nuclear programme.

Roshan, 32, was inside his Iranian-assembled Peugeot 405 car with two others when the bomb detonated near Gol Nabi Street in north Tehran.




Fars news agency described the explosion as a 'terrorist attack' targeting Roshan, a graduate of the prestigious Sharif University of Technology in Tehran.

Deputy Tehran governor Safarali Baratloo was quoted as saying: 'The bomb was a magnetic one and the same as the ones previously used for the assassination of the scientists, and the work of the Zionists (Israelis).'




A similar bomb attack on January 12, 2010, killed Tehran University professor Masoud Ali Mohammadi, a senior physics professor.

He was killed when a bomb-rigged motorbike exploded near his car as he was about to leave for work.




And in November 2010, a pair of back-to-back bomb attacks in different parts of the capital killed one nuclear scientist and injured another.

The dead victim in that attack, Majid Shahriari, was a member of the nuclear engineering faculty at Shahid Beheshti University in Tehran and cooperated with the Atomic Energy Organisation of Iran.




The injured scientist, Fereidoun Abbasi, was subsequently appointed head of Iran's atomic agency.

Most recently in July 2011, motorbike-riding gunmen killed Darioush Rezaeinejad, an electronics student.




Reports identified him as a scientist involved in suspected Iranian attempts to make nuclear weapons.