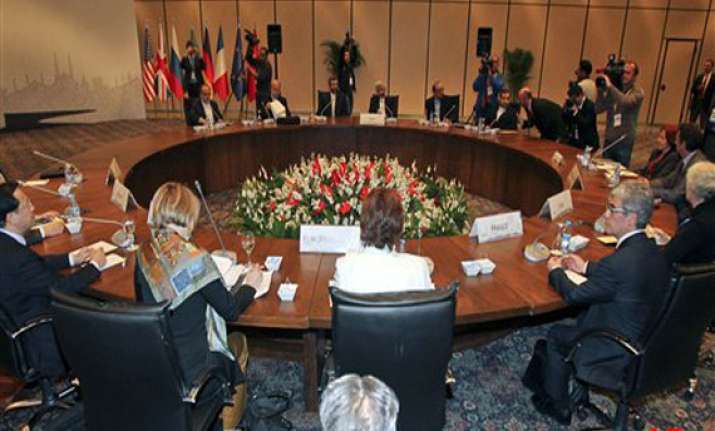 Istanbul, Apr 14: A new Iranian willingness to discuss its nuclear programme in crunch negotiations with world powers today raised the chances of a second round of more in-depth talks very soon, diplomats said.  
In a reminder however of Tehran's enmity towards Washington, a source close to Iran's delegation said they spurned a request from their US counterparts for what would have been a rare bilateral meeting on the sidelines.
"There is a positive atmosphere ... contrasting with the last time" in January 2011, Michael Mann, spokesman for EU foreign policy chief Catherine Ashton, told reporters.  
"The principles for future talks seem to be there," he said, adding that the venue and date for the next round of more detailed discussions—possibly in four to six weeks in Baghdad—would "probably" be decided later Saturday.  
The last time Iran met with the United States, Russia, China, Britain, France and Germany—the so-called P5Ư -- in Istanbul, it quickly became apparent the talks would go nowhere.
"They (Iranians) are showing a readiness this time to talk about their nuclear programme and they are not raising preconditions as they did 15 months ago," a P5Ư diplomat, who wished to remain anonymous, told AFP.  
"If things continue in this direction we will be ready to start a cycle of negotiations," the official said, adding however he was "cautious because you never know with the Iranians."
Russian Deputy Foreign Minister Sergei Ryabkov, who is leading Moscow's delegation, also gave an encouraging appraisal, telling the Interfax news agency that the atmosphere was "constructive" and the talks "business-like."
"What was very striking as soon as Jalili started talking was that there was a difference in tone, in mood," another diplomat said, referring to the head of the Iranian delegation, Saeed Jalili.
The diplomat also noted that there was a "clear sign that Iran... wants to get into a serious process."