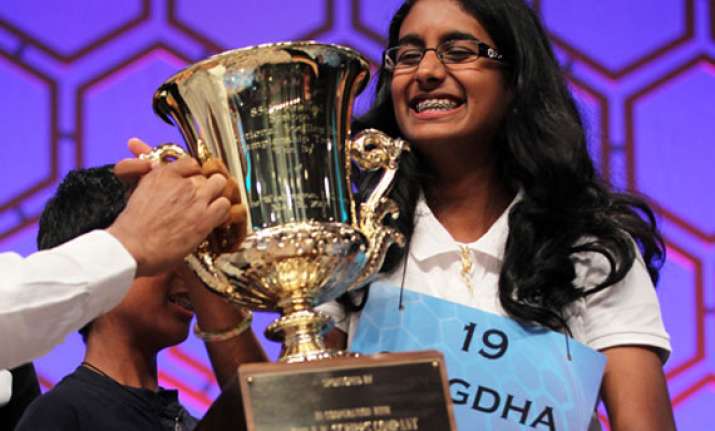 Washington, Jun 1 : Indian-Americans have swept this year's prestigious spelling bee competition with the top three spots being bagged by them.
Snigdha Nandipati, 14, an eighth-grade student from San Diego, California, correctly spelled the French word 'guetapens' to be declared the national champion for the year 2012, beating eight other finalists in the competition.
Snigdha became the fifth American of south Asian origin to win the venerable competition in as many consecutive years.
As the winner Snigdha will take home USD 30,000 in cash, a trophy, a USD 2,500 savings bond, a USD 5,000 scholarship, USD 2,600 in reference works from the Encyclopedia Britannica and an online language course.
The second spot went to 14-year-old Stuti Mishra from Orlando, Florida; while 12-year-old Arvind Mahamkali from New York bagged the third position in this nationally televised competition last night.
The three were among the nine finalists from the 278 national contestants.
"I knew my words," Snigdha said soon after she won when asked "Is there any word you didn't know?" She studied 10 to 12 hours on weekends and six hours on weekdays.
Immediately after winning the competition, Snigdha told the announcer that this is a "miracle."
She apparently knew the word when she heard it.  By winning the coveted title, Snigdha has won a trip to India, which her grandfather, who had especially travelled from India to attend the finals, had promised if she emerged at the top.