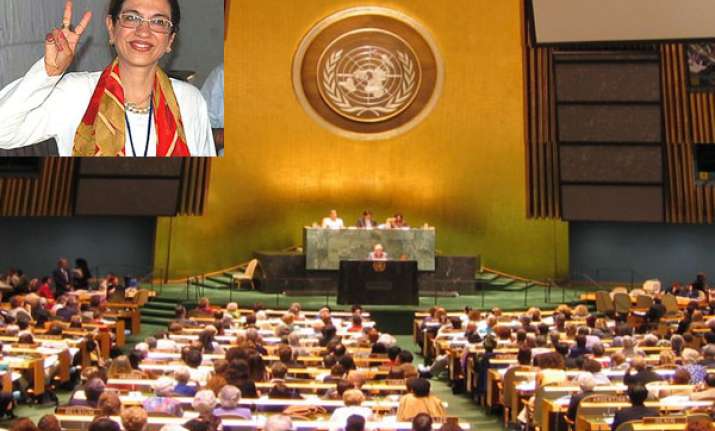 United Nations, Nov 7: India has taken strong exception to Pakistan raising the issue of Kashmir at the UN, calling Islamabad's reference to Jammu and Kashmir at the world body a "blatant" attempt to divert attention from its dismal record of human rights in "Pakistan occupied Kashmir."
In a General Assembly debate on 'Right of peoples to self-determination', Pakistani delegate Marghoob Salim Butt said the "struggle" of the people of Jammu and Kashmir continues and the state's residents want their "voice to be heard; their aspirations respected; pledges to them honoured."
Strongly rejecting the "unwarranted reference" by Pakistan, visiting Member of Parliament Annu Tandon asserted that Jammu and Kashmir is an integral part of India.
"Pakistan's reference to Jammu and Kashmir is a blatant attempt to divert attention from its dismal record of gross and systematic violation of human rights, including in Pakistan occupied Kashmir. Pakistan would do well to introspect before casting baseless allegations against India," Tandon said.
Tandon added that the people of Jammu and Kashmir have chosen and reaffirmed their destiny repeatedly through India's well established democratic processes and "free, fair and open" elections have been regularly held in the Indian state.
She called on the Pakistani delegation to refrain from using the UN forum to detract from the cause of rights to self-determination, particularly of the Palestinian people.
In his speech, Butt said that recent efforts by India and Pakistan to engage each other on a whole range of issues was a "positive development."
Pakistan had made repeated references to Kashmir during the annual session of the General Assembly in September, prompting India to raise strong objections.
India asserted that the state was an integral part of the country and references by Pakistan constitute a "clear interference" in its internal affairs.
Tandon further said the right to self-determination is a fundamental right for people of non self-governing territories and trust colonies, which allows people to freely choose and establish their governance structures.
She said unwavering support for the Palestinian cause has been a cornerstone of India's foreign policy.
"It is imperative that there be an early realisation of a sovereign,independent,viable and united State of Palestine with East Jerusalem as its capital living within secure and recognized borders, side by side and at peace with Israel," she said.