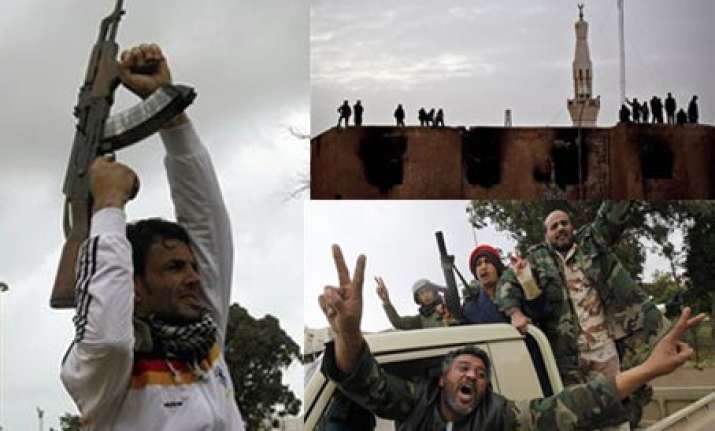 Cairo, Feb 27: As more cities fall into the hands of the pro-democracy protesters, Muammar Gaddafi, the Libyan leader, is hanging on to the capital where security forces loyal to him seem to have a firm hold, even amid reports of sporadic gunfire, reports Al Jazeera.
On Sunday, protesters had reportedly taken over the towns of Misurata and Zawiyah, further shrinking the control of Gaddafi's government.
However, tanks were surrounding Zawiyah, 50km from Tripoli, and locals feared an imminent crackdown by pro-Gaddafi  forces.
Ezeldina, a Zawiyah resident, said people in the city had raided some military camps and were prepared to defend themselves.
We are expecting an attack at any moment," he told Al Jazeera. "We are forming rotating watchgroups, guarding the neighbourhood."
Police stations and government offices inside the city have been torched and anti-Gaddafi graffiti painted of walls.
Hundreds of protesters in the city centre chanted "Gaddafi Out".  An effigy of Gaddafi hung from a light pole in the main square.
Tripoli showdown
With much of the oil-producing regions, including the second city of Benghazi, in protesters' hands, the opposition is rapidly gearing up for a showdown in Tripoli.
The UN Security Council imposed a travel and assets ban  on Gaddafi's government and, with exceptional unanimity, ordered an investigation into possible crimes against humanity by the Libyan strongman.
Hana Elgallal, a legal and human rights expert in Benghazi, said some in Libya will be disappointed that the UN did not impose a no-fly zone.
"I'm one person who was hoping that we'd get that," she told Al Jazeera. 
"We will not be able to move and help Tripoli because of the fear that he will use his planes. But whatever we get now we will look at it positively and consider it a victory and success. 
"Hopefully things will escalate in our benefit soon to defuse the massacres in Tripoli."
The UN move come amid increased international criticism of Gaddafi's crackdown on protests. Barack Obama, the US president, has called on Gaddafi to "leave now."
The foreign minister of Italy, Gaddafi's closest European ally, said on Sunday that the end of the Libyan leader's rule was "inevitable".
Franco Frattini also said a friendship and co-operation treaty between Libya and Italy was "de facto suspended".
"We have reached, I believe, a point of no return," Frattini told Sky Italia television.
Australia has also moved to put pressure on the Libyan government by imposing unilateral sanctions. Kevin Rudd, the foreign minister, told Al Jazeera that more measures need to be taken against Gaddafi and his government.
"There is one critical element of the UN Security Council resolution, which we in Australia have strongly argued for, for the last week, and that is a reference to the International Criminal Court," he said.
"This is critical for the regime in Tripoli to understand. That is, if they take further actions of violence against innocent civilians in Libya, it is not just those who issue orders, but those who pull the trigger who will then become subject to the jurisdiction of the criminal court."
'Enemy of God'
His comments came as armed protesters in the eastern city of al-Baida threatened to march on to the capital.
Al Jazeera obtained video of the protesters who said they are planning to march on to Tripoli and claim to have seized tanks and weapons from the army.
Their claims came a day after hundreds of Tripoli residents, shouting "Gaddafi is the enemy of God" and shaking their fists, vowed on Saturday to fight Gaddafi at the funeral of a man killed by the Libyan leader's soldiers.
In a poor neighbourhood of the Libyan capital that is openly defiant of Gaddafi's more than 41-year-old rule, hundreds of men gathered to pay tribute to one of five people they said had been killed when troops fired on protesters late on Friday.
The number could not be independently confirmed.
"We will demonstrate again and again, tomorrow and the day after tomorrow," said Isham, 34, an engineer.
His voice breaking with emotion, another man, Ismail, said: "Gaddafi forces came here, they shot everywhere during a demonstration that was peaceful."
Diplomats say about 2,000 or more people have been killed across the country.