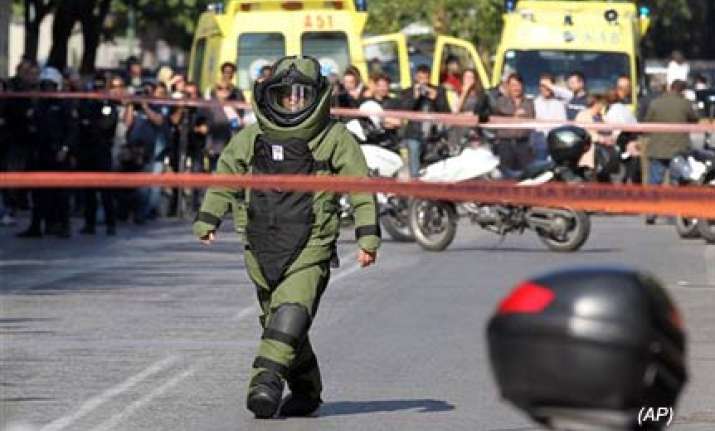 Athens, Nov 2: A parcel bomb today burst into flames at the Swiss embassy in Athens and controlled explosions were carried out on packages at the Russian and Bulgarian embassies, Greek police said, a day after intercepting several similar packages.
Police said a total of five parcel bombs had been discovered in the capital today, just days before local elections, following similar packages addressed to three other embassies and President Nicolas Sarkozy yesterday.
An employee at the Swiss embassy narrowly escaped injury when a suspect parcel ignited today, a police source said.
Switzerland's foreign ministry said the device had been left at the entrance to the embassy in Athens, and burst into flames when it was being checked by staff.
"The burst of flame occurred when employees were removing the external wrapping of the package. At no moment was there an explosion," the ministry said. No one was injured.
Meanwhile, controlled explosions were carried out on suspect packages at the Russian and Bulgarian embassies, and on another outside the Greek parliament.
The parcel-bombing campaign comes ahead of local elections on Sunday and during a period of social malaise after deep austerity measures adopted by the Socialist government to battle an unprecedented debt crisis.
Police yesterday arrested two men suspected of links to a far-left group after the discovery of several booby-trapped packages, including one addressed to the French president.
In Sofia, Bulgaria's foreign ministry said the package discovered at its embassy had raised suspicions when it set off a metal detector.
"The actual sender of the package is yet unknown," the ministry said.
Swiss embassy staff had also detected metal in the package sent there, Geneva said.
The alert was raised yesterday when a package mailed to the Mexican embassy detonated inside a courier company office and burned the hand of a female employee.
Police then announced they had intercepted other packages addressed to the Dutch and Belgian embassies as well as one to Sarkozy. AFP