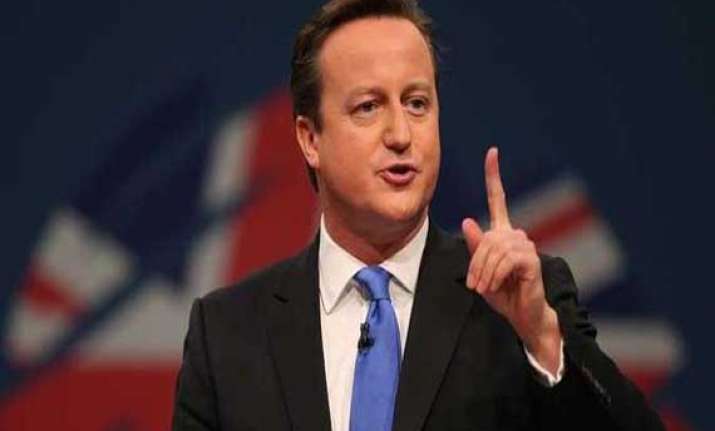 London: British Prime Minister David Cameron undertook a major cabinet reshuffle on Tuesday, appointing more women ministers in his cabinet ahead of the general elections next year.
The reshuffle, which started on Monday, saw dozens of ministers in Cameron's top team being moved, promoted or sacked on Tuesday in the biggest shakeup of his cabinet since the coalition government took power in 2010, Xinhua reported.
The cabinet reorganisation involved the promotion of multiple women ministers into the top team, as well as the ousting of some senior male ministers from key cabinet jobs.
Former financial secretary to the HM Treasury Nicky Morgan, 41, has secured a senior cabinet position by replacing Michael Gove to be the new secretary of state for education. She retained her role as minister for women.
Elizabeth Truss, 38, ascended to the cabinet as the new secretary of state for the environment, food and rural affairs, after working for two years as a minister for education and childcare.
Esther McVey, 46, was allowed to attend cabinet meetings while remaining as minister for employment and disabilities.
Cameron has pledged to make a third of his ministers to be female by the end of his first parliament.
While critics have slammed Cameron's promotion of women into the cabinet as "tokenism", some advocates for women's rights have hailed the move as a "progress" in reducing gender imbalance in top-level politics.
"Such a move is important symbolically - both as a signifier to society at large that women are as competent, capable and ambitious as men when it comes to holding positions of power, and to individual women and girls who may aspire to hold such roles themselves," said Daisy Sands, head of policy and campaigns at the Fawcett Society, a charity campaigning for women's rights.
However, the emergence of more female cabinet ministers has been said to be at the expense of ousting older, male ministers from their high-level cabinet jobs.
Veteran diplomat William Hague, 53, has stepped down as foreign secretary to serve as leader of the British House of Commons. Former defence secretary Philip Hammond has replaced Hague to take the top diplomatic role.
Pro-European minister Ken Clarke, who had served on a number of top cabinet positions under former British Prime Ministers Margaret Thatcher and John Major, has left the government after more than 40 years in politics.
Michael Gove, the former education secretary, became the chief whip in the House of Commons, to take charge of the Conservative Party's disciplinary affairs, with an "enhanced role in campaigning and doing broadcast media interviews".
Nearly two dozen ministers were sacked or moved to make room for new ministers.