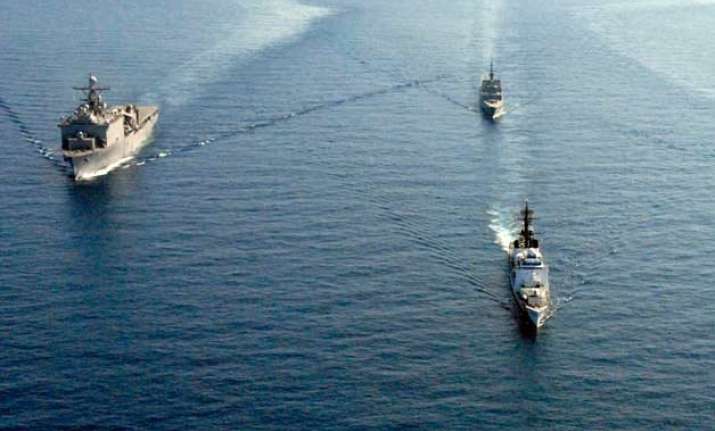 Beijing: China's foreign minister Wang Yi on Sunday defended as "lawful and justified" the construction of major infrastructure projects in the disputed islands and reefs of the South China Sea (SCS) and said it was merely building facilities in its own yard.
 
"The work is necessary and it poses no threat to other nations. This construction does not target or affect anyone," Wang Yi said at a news conference Sunday on the sidelines of an annual meeting of parliament.
"We are not like some countries who engage in illegal construction in another person's house, and we do not accept criticism from others when we are merely building facilities in our own yard. We have every right to do things that are lawful and justified," he added.
Last year, Chinese President Xi Jinping tried to ease the concerns of Southeast Asian nations over the country's ambitions, but Beijing's reclamation work in the Spratlys underscores its drive to push claims in the South China Sea and reassert its rights.
China's claims cover almost all (90 per cent) of the South China Sea, displaying its reach on official maps with a so-called nine-dash line that stretches deep into the maritime heart of Southeast Asia.
Vietnam, the Philippines, Malaysia, Brunei and Taiwan also have claims to parts of the potentially energy-rich waters that are crossed by key global shipping lanes.
Fearing the China's aggressive efforts to enforce its claims, these countries have forged an alliance with the US to bolster their defence ties.
China has already undertaken reclamation work on six other reefs it occupies in the Spratlys, expanding land mass five-fold, aerial surveillance photos show. Images seen by Reuters last year appeared to show an airstrip and sea ports.
The work on the islands has become possibly the most visible sign of Xi's more muscular form of diplomacy, even as he promises more than $120 billion in funds for Africa, Southeast Asia and Central Asia.
The move is also seen as a new initiative by China to counter U.S.' Asia Pivot strategy under which Washington plans to deploy 60 per cent of its military assets in the region, which Beijing says is aimed at containing its rise.
About relations with U.S., Mr. Wang said this year's visit of Chinese President Xi Jinping to Washington will infuse new momentum into the new model of major-country relations between the two countries.
In the past year, China has made efforts to improve ties with its neighbours by unveiling plans for massive investment in roads, pipelines, ports and other infrastructure that it says will help to build new overland and maritime trade routes between Asia and Europe.
China's hardline stance has stoked fears in Washington, Tokyo and some Southeast Asian capitals that Beijing is increasingly trying to play by its own rules and ignore international norms, as Xi seeks a global position commensurate with China's new economic power.