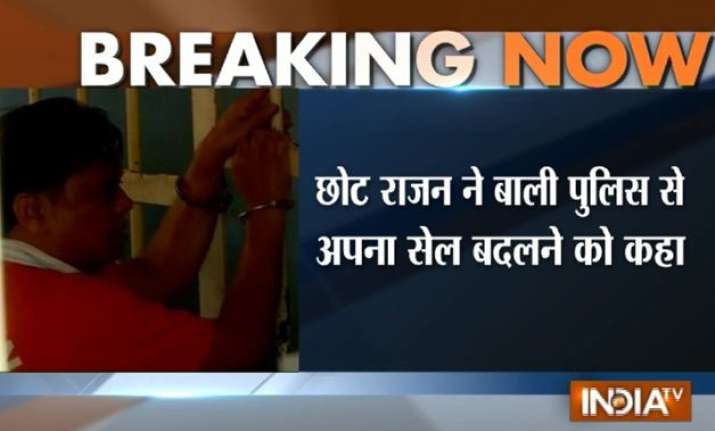 Bali: Gangster Chhota Rajan, who was arrested in Indonesia's Bali earlier this week, has now asked the jail officials to shit him to another cell of the prison.
Sources told India TV that Rajan has said that he is facing a grave threat to his life from local criminals lodged in the same jail.
The 55-year-old gangster also complaint that medical facilities are not being provided properly to him.
This came a day after Rajan told India TV that he wanted to go back to India as he is having difficulties in Indonesia jail.
"I want to go to India. I will tell CBI everything during interrogation. I am in pain here and I have not surrendered," he has said yesterday.
Yesterday, he had also written a letter to the Government of India saying that there is a grave threat to his life and wants to be deported to India at the earliest.
The letter, addressed to the Indian Consulate, further mentioned about Rajan's fast deteriorating health as he suffers from kidney failure.
Meanwhile, there are reports that Mumbai Police is preparing a dossier which will be submitted to Indonesian officials to extradite Rajan.   
Reports also say that Indian security agencies are likely to send a team of officials soon to bring back Rajan from Indonesia.
PTI reported that sources are tightlipped about the exact arrangements to bring him back because of security concerns arising out of his fierce rivalry with Dawood Ibrahim and his gang.
Reports are also doing the rounds that Rajan will be extradited after Vice President Hamid Ansari's visit to Indonesia. Ansari would travel to Indonesia and Brunei from November 1 to 6 to carry forward India's bilateral engagements with the two countries.
In Indonesia, Ansari would be meeting President Joko Widodo, his counterpart there Jusuf Kalla and the Speakers of the two Houses of the country's Parliament.
It is also likely to that the extradition treaty between India and Indonesia will be ratify during this this visit.
Rajendra Sadashiv Nikalje, better known as Chhota Rajan, wanted over a series of murders in India, was arrested in Indonesia on Monday after decades on the run.
They said agencies are working on more than one plan to bring back Rajan, once known as Dawood's right hand man.