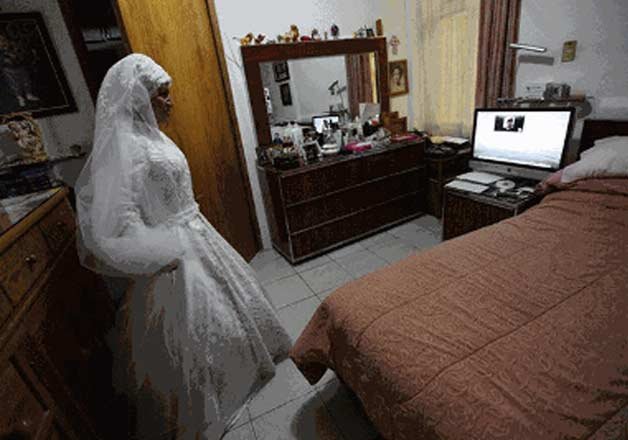 London: Minor girls in UK including few as young as 11 years are being forced to marry men on internet living in other countries.
Forceful marriages are already banned in the UK but in some parts it is being conducted. Girls in hope of getting a visa to meet their husband, are tricked into marriage, suggest media reports.
Imams in the UK and abroad have been conducting ceremonies using Skype so girls can be married remotely before "being put on a plane and consummating the marriage at the earliest opportunity", asserted Freedom, a charity.
"The reason is to curb the behaviour of their children when they become 'too western'," charity founder Aneeta Prem was quoted as saying by 'The Sunday Times'.
"Once married, there is enormous pressure to get a spouse visa. The hope is the girl will visit (country of husband's origin) and fall pregnant to make the union seem more legitimate before bringing the partner back," she said.
In one case, an 11-year-old home-educated girl from London was married on Skype to a 25-year-old man in Bangladesh.
She contacted Freedom in November after reading a book about forced marriage that her older brother was given at school.
"She hadn't understood at the time but later realised the Skype call was a marriage ceremony. The plan was for her to meet her 'husband' at a later date and hopefully fall pregnant."
In the meantime, she was at home learning to cook and clean," said Prem, the author of 'But It's Not Fair' - an account of forced marriage.
"We see cases from many communities including those from Hindu, Sikh, Jewish, and Mormon backgrounds. No religion accepts forced marriage but some parents are using it as a method of control," she added.
Forced marriage was made illegal in England, Wales and Scotland in 2014 but there has been only one conviction and it did not involve a child.
Karma Nirvana, a charity that runs free workshops to raise awareness of forced marriage, said in a two-month period at the end of last year it had received 38 referrals from 14 schools, including 11 from one school in Birmingham. In this particular school, the referrals came the next day after the charity held a presentation.   
The UK Department of Education said: "We trust teachers to know what their pupils will benefit from most, rather than prescribing a one-size-fits-all approach".
(With inputs from PTI)