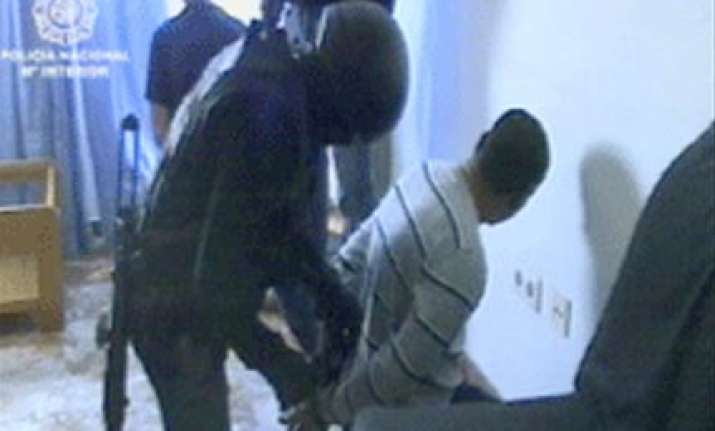 A ransom was paid to free the British five-year-old Sahil Saeed kidnapped in Pakistan, it was confirmed today, as police in Paris and northern Spain arrested a five people in connection with his kidnap.
As the five-year-old prepared to fly back to be reunited with his mother and wider family in Britain, details of the elaborate operation to secure his release, involving police forces in Spain, France and Britain, have begun to emerge.
Two Pakistani brothers and a Romanian woman are due to appear in court tomorrow, after being arrested near Tarragona, north-east Spain, according to an official with the superior court of Catalonia. Police are understood to have recovered a large amount of money, reported to be Euros 87,000 (GBP 78,000), in a flat the three shared.
Their arrest followed the payment of the ransom in Paris, according to Spanish police. "Two of them picked up the ransom in Paris and returned to Spain by car. They were arrested once the release was confirmed," said a police spokesman in Madrid. "Two more people have been arrested in the French capital and the operation is still open."
Interior Minister, Rehman Malik, said rescuers had had the option "to catch [the kidnappers] and have the boy killed", but that it was "decided that life was more important".
Sahil, from Shaw, Oldham, Greater Manchester, was held captive for 13 days after being snatched by an armed gang from his grandmother's home in Jhelum, in the Punjab on 3 March. He was found wandering in a field at Kharian, 25 miles away, yesterday, alone but unharmed. His hair had been cropped and his shoes were missing.
He had been on a two-week holiday with his father, Raja Naqqash Saeed, 28, when the kidnappers struck just as they were leaving for the airport to fly back to Britain. The armed gang are said to have tied up and beaten family members before taking the boy and demanding a ransom.
Sahil's father left Pakistan five days after the kidnapping, against police advice. Greater Manchester police said he had been helping secure his son's release. His whereabouts since have not been divulged by family members.
It is understood a substantial sum was raised by Naqqash's family; friends said they had to sell prized possessions including jewellery and cash in savings, to raise the money. The kidnappers demanded a £110,000 ransom for his release, according to Spanish police.
"Two of those arrested in Spain, a man and a woman, travelled to Paris to pick up the money, where the kidnappers had agreed that the payment should be made," they said. "The third person helped them in Spain."
"Two other people who helped them have been arrested in the French capital and the investigation continues in Pakistan."
Kidnapping specialists at Spain's national police had been warned through Interpol that the first ransom demands had been made by telephone from Spain. "The investigators managed to narrow them down to a place near Salou, in Tarragona province (north-east Spain)," the spokesman said. Constantí, where the arrests were carried out yesterday, is a short distance from Salou.
Investigators had originally believed that the ransom would be paid in Manchester and had contacted police there along with Britain's serious organised crime agency. Then the payment was set up in Paris, and the French police's organised crime unit became involved.
Telephone calls were made in Urdu, with the first call telling the family to prepare to hand over the money in Manchester within three days.
The family received 15 calls altogether, two of them made by a woman and four coming from somewhere north of Tarragona, in the province of Barcelona, police said.
The arrests came as the British high commission in Islamabad made final preparations for Sahil to fly home. It is thought his father is flying back to Pakistan to accompany him. It is not known where he is flying from.
Sahil was taken back to Jhelum today for a brief hearing before a magistrates court, a legal procedure necessary in kidnapping cases.
He told the court that he was kept in a village and looked after by a woman throughout, according to sources. He said the kidnappers had taken him horseriding and also for rides on a donkey cart. He was also given a little cycle to play on, and a toy gun.
He was accompanied to the court by British officials and his uncle Rizwan for the 11-minute hearing, and was then driven back to Islamabad, about 90 minutes away.
According to a foreign newspaper, those arrested in Tarragona are believed to have lived in the flat for about a year. Footage released by Spanish police showed armed officers storming the apartment and making the arrests.
Sahil's mother, Akila Naqqash, 31, a supermarket worker, has managed to speak to her son on the telephone after his release. She told reporters: "I need to see him with my own eyes to believe it. The police are looking after him." She said he sounded "normal" and was excitedly telling her about his new toys.