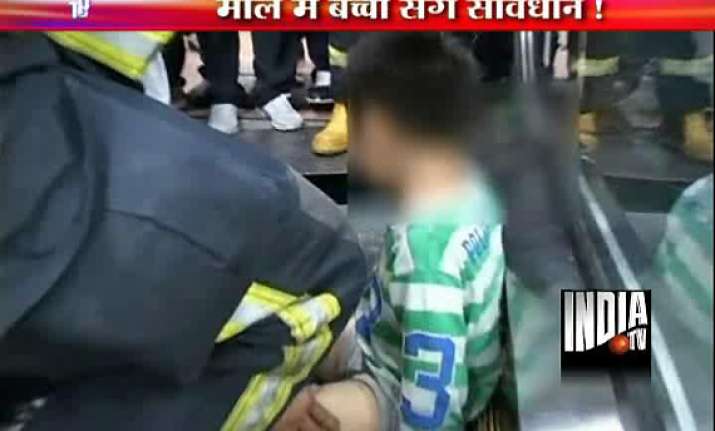 Hangzhou (China), Jun 27:
A four-year-old boy suffered serious injuries after his right foot became jammed in a mall escalator in east China's city of Hangzhou on Sunday.
The incident occurred at about 12:20 on Sunday when the boy, named Yuanyuan, was playing on the moving escalator for around 10 minutes without adult supervision at a clothing mall.
Upon receiving word of the incident, a team from the local fire department rushed to the mall to find Yuanyuan's entire right foot wedged into the gap between the escalator's top steps. The boy was shrieking in pain and fear.
After analyzing the situation, the team decided to first use a crowbar to pry open the steps which were holding Yuanyuan's foot in place in order to prevent further damage.
After relieving a bit of pressure on the boy's foot, rescuers utilized hydraulic tools to pry open and cut apart the steps, freeing the youngster soon after.
Yuanyuan was later rushed to the local hospital, where he was reported to be in stable condition with the only lasting damage to his foot being minimal joint inflexibility.
According to the hospital, a full recovery for Yuanyuan will cost around 40,000 to 50,000 yuan (about 6,284 to 7,855 US dollars), and so far the clothing mall has contributed 10,000 yuan (about 1,571 US dollars).
The young victim's father said with regret that he was doing business in the shopping mall while his son was playing on the escalator with no supervision.