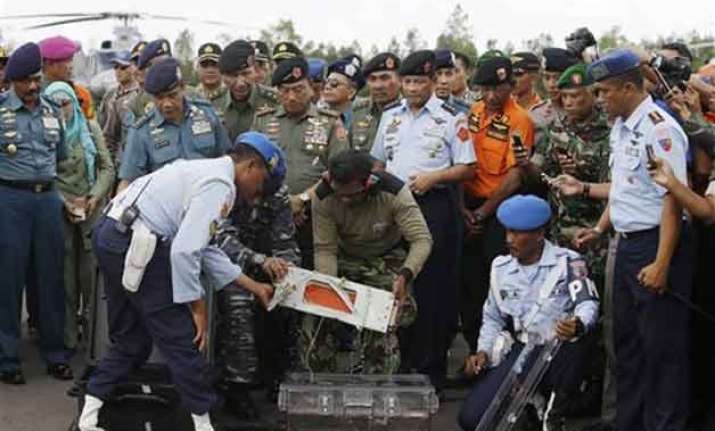 Indonesia: Search and rescue workers were preparing balloons and other equipment on Tuesday to lift debris from the AirAsia plane wreckage to allow divers to retrieve the cockpit voice recorder, the search coordinator said.
Divers had recovered the flight data recorder on Monday, but the second black box—which is actually orange—was pinned under chunks of the plane's wing at a depth of 32 meters (105 feet) in the Java Sea.
"The divers can see it clearly as an orange object, but it's difficult for divers to retrieve it as layers of heavy metal and debris are above it," said Suryadi Bambang Supriyadi, operation coordinator for Indonesia's national search and rescue agency.
The two instruments, which emit signals from their beacons, are vital to understanding what brought Flight 8501 down on Dec. 28, killing all 162 people on board. They should provide essential information about the plane and all of the conversations between the captain and co-pilot for the duration of the flight.
More than 80 Indonesian navy divers plunged into the shallow sea early Tuesday about 20 meters away from the flight data recorder had been found, Supriyadi said. Workers were readying balloons and lifting bags to raise the debris, he said.
Supriyadi also said that an Indonesian warship had found pieces of the plane's windows and interior cupboards near the Java port of Semarang, about 720 kilometers (450 miles) southeast of where the jet had lost contact with Indonesian air traffic control, showing how far some debris has drifted over the 17 days since the accident.
The flight data recorder will be taken to Jakarta, Indonesia's capital, for evaluation, and the other black box will be sent as soon as it is retrieved. It could take up to two weeks to download and analyze their information, said Nurcahyo Utomo, an investigator at the National Committee for Safety Transportation.
Based on past crashes, the information retrieved from the black boxes could be vital. The two separate devices—designed to survive extreme heat and pressure—should provide investigators with a second-by-second timeline of the plane's flight.
The voice recorder takes audio feeds from four microphones within the cockpit and records all the conversations between the pilots, air traffic controllers as well as any noises heard in the cockpit, including possible alarms or explosions. It records on a two-hour loop, so investigators here won't just capture the plane's final minutes but the entire 42-minute trip.
The flight data recorder captures 25 hours' worth of information on the position and condition of almost every major part in a plane. It includes a multitude of data, including altitude, airspeed, direction, engine thrust, the rate of ascent or descent and what angle up or down the plane was pointed.
"There's like 200-plus parameters they record," said aviation safety expert John Goglia, a former U.S. National Transportation Safety Board member. "It's going to provide us an ocean of material."
The pilots of the AirAsia jet last had contact with air traffic controllers less than halfway into their two-hour flight from Surabaya, Indonesia's second-largest city, to Singapore. Saying they were entering a stormy area, they asked to climb from 32,000 feet (9,750 meters) to 38,000 feet (11,580 meters) to avoid threatening clouds, but were denied permission because of heavy air traffic. Four minutes later, the plane dropped off the radar. No distress signal was sent.
Searchers also have been trying to locate the main section of the plane's cabin, where many of the victims' corpses are believed to be entombed.
So far, only 48 bodies have been recovered. Decomposition is making identification more difficult for desperate families waiting to bury their loved ones.
Nearly all of the passengers were Indonesian.
"I still believe many victims remain trapped there, and we must find them," said Gen. Moeldoko, Indonesia's military chief, who uses one name.